Ghibli, Manaphy, Podcast, IGN Mystery Dungeon 2
*switches modes* Studio Ghibli's next film will be called Ponyo On A Cliff, and will feature a five year old boy named Sosuke, modeled after Miyazaki's son, Goro, and a princess goldfish named Ponyo, who wants to become human. This will be Miyazaki's eighth major motion picture film (the seven before being Nausicaa of the Valley of the Wind, Castle in the Sky: Laputa, My Neighbor Totoro, Kiki's Delivery Service, Princess Mononoke, Spirited Away, and Howl's Moving Castle), and will be released during the summer of 2008, around the same time as the 11th Pokemon movie. The movie's animation style will be unlike that of any of the previous films, making use of watercolors and pastels, instead of regular paint or computer coloring. It will also take place primarily in the OCEAN! If I had not become a Pokemon webmaster, I would have started a Miyazaki / Studio Ghibli website, but nooo, you punks kept me in business. :p (If you have no idea what I am even talking about, just ignore this and watch Spirited Away when it is on Cartoon Network sometime this month – you will be converted into a fan of Studio Ghibli / Miyazaki films). Oh yeah, this is a Pokemon website, isn't it?
---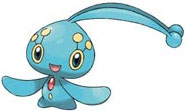 Manaphy Movie – Speaking of the ocean, since Pokemon Ranger and the Prince of the Sea is airing this Friday at 7 PM on Cartoon Network, a little promotion is in order. As with the Lucario movie, I will put up a few pieces of background music from the movie for all of you to download each day until the movie airs. The background music featured below is from when the family featured in the movie performs their in-the-air water show on land. How will they accomplish this? Wait until the movie airs on Friday to find out! Remember, immediately after the movie airs on the west coast (PST, around 9:00 or 9:30 PM), we will begin to record PokeBeach's podcast, so if you are interested in being a call-in guest, read yesterday's news story!
[Opening! Water Pokemon Show!] – 6.23 MBs
(Right click, save the link, and open it in a program that plays MP3s, such as Windows Media Player or iTunes.)
---
Next Pokemon Game? – I was reluctant to post this news story earlier this morning due to the lack of solid sources behind it, but now IGN has posted that Pokemon Mystery Dungeon 2 may be the next Pokemon game released, as hinted in the latest issue of Famitsu magazine. CoroCoro is supposed to be revealing a new game in next month's issue of its magazine, so this may very will be the same game. We should be finding out within the next month or so what the next Pokemon game will be, so stay tuned!