EDIT #2:More scans are being added to the EX Dragon Frontiers page, thanks to Alchemist_Almight! I will continue to edit the ones I receive and put them up, so keep checking back every once in a while!
---
EDIT #1:I have added sixteen images of cards to the [Pokemon Card Game: DP] page. Check it out! In a few hours, I will put up many EX Dragon Frontier scans as well, so check back later!
---
Today is going to be craziness with Pokemon Card Game: DP and EX Dragon Frontiers.
---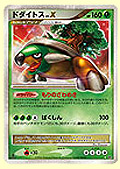 New Pokemon TCG Game Mechanics Revealed! – Bangiras has translated how the TCG will change with the Diamond and Pearl sets. You can read all about the new changes under "New / Returning Game Mechanics" on our [Pokemon Card Game: DP] page. The entry pack translations are also on that page in a link, so check those out if you did not see them last night. Also, Pokemon-ex do not seem like they will be returning to the game. "Pokemon lv. X" will make their debut instead (as seen on the right)! The game will be radically changed with these new mechanics and rules, much more than ever before, but it seems as if the game will become more fair and balanced this way, especially for the beginning of the game where luck used to play a lot of chance in who would win (at least in my opinion :p). We will have pictures of several of the cards later on today.
---
EX Dragon Frontiers Scans Coming – We have lots of scans on the way, and they will be up later today! I just have to edit them now. Be sure to check back in a while! In the meantime, check out some scans and the set list by [clicking here].