EDIT #1: I have added the release date for Pokemon Ranger to the right menu.
Let's play a game. It's called "Find the two spelling errors and one general error on the following POP announcement pages." :p
---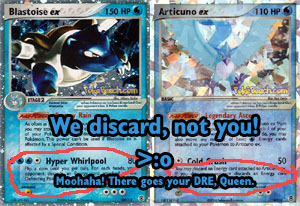 Errata on Blastoise and Articuno ex – Blastoise and Articuno ex just became more powerful. POP has announced that the person using Blastoise or Articuno ex's attack will be able to choose which energy the opponent has to discard, not the opponent as previously ruled. POP has also clarified some issues with Holon Energy WP and Ancient Technical Machine [Ice]. To view the announcement, click here.
---
Wal-Mart to Celebrate Launch of EX CG – Going to miss a pre-release? Wynaut go celebrate the launch of EX Crystal Guardians at Wal-Mart?
Come on in to your local Wal-Mart store between 10 a.m. and noon on Saturday, August 26th, to celebrate the launch of the exclusive Pokémon Trading Card Game EX Crystal Guardians "Earth Shower" theme deck! To celebrate at participating stores, we'll be offering demos of how to play the Pokémon TCG, as well as handing out 2-card promo packs and cool Pokémon activity books while supplies last!

EX Crystal Guardians won't be released until Wednesday, August 30th. Don't miss your opportunity to take advantage of this Wal-Mart-exclusive offer!
The first thing I noticed when reading this article was that they are calling one of the EX Crystal Guardians theme decks "Earth Shower." As we know from the images I posted here on July 17th, the two theme deck names were "Storm Surge" and "Green Cyclone," so what could this new theme deck be? A combination of the two? A brand new one exclusive to Wal-Mart? I suppose we will find out soon. To check if your local Wal-Mart will be promoting this event, click here.