Stupid interweb.
---
Pokemon Wal-Mart Day List Updated! (EDIT #1) – The list of Wal-Marts that will be celebrating the release of EX Crystal Guardians has been updated with almost two hundred new stores! To check if your Wal-Mart will be holding the event, click here. Note: There is still a huge spelling error on that page. :p
---
Sunflora (EX Unseen Forces) Review – We have two extensive reviews on [Sunflora from EX Unseen Forces] today. All of our reviews will now be included on our new [Card Reviews page] (under 'Trading Card Game' in the drop down menu), so if you want to access a card we have reviewed in the past, you can just go to that page. Also, I realized only yesterday that the commenting thread for ATM Rock was not open to posting for people on our forums, so now it is open for posting. To comment on the Sunflora card reviews, click here.
---
New Pokemon Ranger Logo – Looks like Nintendo did not like the old logo. The Pokemon Ranger logo has been redone, as shown below, and reflects the Japanese logo a bit more now. Remember, the release date for it is October 30th in the USA.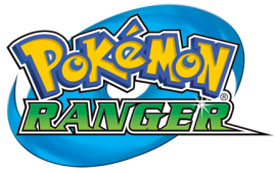 ---
And since there is nothing to comment on… for this news story's commenting thread, I leave you today with a cool Team Rocket video. Do not play it if you suffer from laughter attacks, heart attacks, panic attacks, attacks in general, or are viewing this website at night while other people are sleeping.