EDIT: My DSL service went down last night and will not be back up until tomorrow (hopefully earlier). I have the episodes finished, I just can't upload them at school without my FTP Program. So, expect an update either extremely late tonight or extremely early tomorrow.
---
New English Names – The names of Manene (Mr. Mime pre-evo) and Manyula (Sneasel evo) are below, along with official proof:
Manene -> Mime Jr.
Manyula -> Weavile
Here is proof from balladofwindfishes, who took the below pictures. They are pictures of the back of PokeDoll packages that were sold at a recent Journey Across America: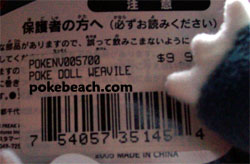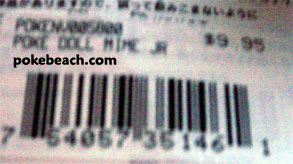 ---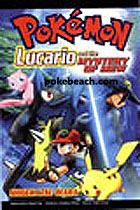 Lucario and the Mystery of Mew – English Description and Possible Movie Artwork – We have obtained the English movie description and (possible) artwork for Lucario and the Mystery of Mew, which gives us some of the English names of terms in the movie – Aura Guardian (originally Hero of the Wave – this might be Lucario's official Pokemon type, like how Combusken is the young fowl Pokemon), Cameran Palace (originally Aldoran Castle), Tree of Beginning (originally Tree of World's Beginning, or something like that). I am not quite sure if this artwork is for the movie or for some other promotional celebrating the movie, but I guess we will find out soon. I have already seen three pieces of artwork for the movie – one with Regirock, Regice, and Registeel, the one to the right, and one with Lucario and Aaron, so it is sort of up in the air as to which will be the one. The one to the right does not use the same blue and pink logo as the other two posters, which is why I think it is for some sort of promotional for the movie (like a comic). Also, as we said a while ago, the movie will come out in America in the summer on DVD.
Ash and his companions take a trip down to Cameran Palace to take part in the annual Aura Guardian Tournament. But when Ash picks up the Staff of the Guardian, the Aura Pokemon, Lucario, mysteriously appears… demanding to know where the REAL hero is! Meanwhile, Pikachu goes missing, and the Queen orders a search that leads our heroes to 'The Tree of Beginning!' How will Lucario and Ash overcome their differences to save the legendary Mew, Pikachu and the tree?
---

Lugia TCG Binder – PokemonCenter.com has put up a new TCG binder for people to buy, this time featuring Lugia and the Eeveelutions. Some of you may have seen this binder on the official Japanese TCG website last year, and now American can buy it too! The Lucario binder that was put up a while ago is also still available.