EDIT #2: Please see the last news story.
---
Wow, I'm shocked. I came home around 3:00 PM yesterday after taking the SAT Subject Tests, remember laying on my bed to watch television for the first time in over two weeks, and I ended up waking up at 5:00 AM today. That's a new record for me in sleeping a long time (14 hours). So now, we have all of the news that has been piling up that I was supposed to post during those fourteen hours of sleep yesterday!
---
EX Crystal Guardians – The Japanese "Miracle Crystal" set has been named "EX Crystal Guardians" for American set releases. If you didn't see my edit to the previous news story on Thursday or the changed set image at the top of the main page on Friday, then now you know! The pre-releases for the set will be on August 12th, 13th, 19th, and 20th, which means that it will not be legal for Worlds. Therefore, the format for Worlds will be EX Hidden Legends through EX Holon Phantoms.
---
Nintendo DS Lite – The DS Lite will be released on June 11th for $129.99 in a default Polar White color. How does it differ from the original Nintendo DS you ask?
> It's less than two-thirds the size of the original Nintendo DS and more than 20 percent lighter.
> Its two bright screens can be adjusted to four levels to adapt to different lighting conditions and to extend battery power.
> The microphone sits in the center of the unit, and the LED lights are clearly visible whether the unit is open or closed.
> The stylus is 1 centimeter longer and 1 millimeter thicker than the stylus of the original, and slides into a side storage slot.
> The Start and Select buttons were repositioned for easier access.
> A removable cover keeps the Game Boy Advance cartridge slot clear from dust and debris when it's not in use.
---
Pokemon.com Press Release – Pokemon.com has basically confirmed that the reason the voice actors won't be doing the show anymore is because of contract conflictions. This means that nothing can be done to get the old voice actors back, which is what we have been saying for the longest time, and what Pokemon.com is basically alluding to. If you don't watch the show because of the new voices, oh well, your loss. If you continue writing letters – great, it will just be a waste of your time and in the long-run you will put yourself down when you do not succeed. If you do watch the show – good, it will be just like before, just with new voices and probably a show closer to the original version, without any A.D.D. music editor constantly changing the music every three seconds (among other 4Kids evils). We cannot get the VAs back, so we should just live with the changes, adapt to the new voices, and hope they fit into their rolls better as time goes on (which is basically guaranteed, since most VAs on shows usually sound different from the first episode of the series compared to the last).
---
Top Trainer Cards – This week's card article review focuses on the top Trainer cards of the Modified format. You can read the card reviews by clicking here. If you would like to become a PokeBeach Strategist, or have asked me previously and I did not get back to you, please PM me on our forums instead of e-mailing me. It's been a busy week and I think I lost half of the requests that I viewed over e-mail.
---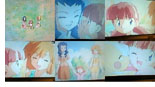 Mysterious "Misty" Image – The image on the right (click for a larger picture) has been floating around the net since yesterday, with many people believing it to be a special that will air in Japan next year featuring Misty. Some people are calling it fake, others genuine, but there is no real proof on either side as to if it is fake or if it is real. All we have is this photograph of a television/computer. I personally think it is real, since the bottom image in the photo, where the center character is, appears to be static, which is characteristic of a moving image on a television screen that someone takes a picture of while moving (even a screenshot). If it is real, it brings up a lot of interesting questions. Could this be a special about an older Misty? Could this be a special about Misty as a child? Could this be a special about Misty, her older sister, Violet (blue hair), and maybe the child in the picture is Violet's daughter (that's my theory)? Maybe Misty, Violet, and another of Misty's sisters (another theory)? Who knows at this point? When we do hear any news about the authenticity of this image, or any news regarding it, we'll be sure to bring you the news!
---
Pokemon to Air on Cartoon Network – Official! – Pokemon will be returning to Cartoon Network starting May 15th with "What You Seed Is What You Get." There will be Advanced Generation episodes on each night at 5:00 PM, Monday through Friday, on Miguzi. As of now, no word on new episodes airing has been mentioned, but considering how the WB has to finish running its new episodes until the Summer begins, we probably will not see new episodes on Cartoon Network until the Fall. I am also willing to bet that everyone will now be migrating over to Cartoon Network now that Kids' WB sucks, and that it will become the new place to watch on Saturday mornings, if it does eventually air new episodes. This is exciting news, and guarantees to us that Pokemon will now live on! Stay tuned to here for more information! Thanks to ToonZone for the heads up!