Sorry for not updating during the weekend. Emily Dickinson project madness took over on Saturday and Sunday.
---
Miracle Crystal Spoilers – Incase you have not noticed, thanks to Bangiras, we have had the set spoilers for Miracle Crystal up since Saturday at the top of this page. Yesterday, Bangiras sent me the theme deck spoilers as well, which I have now added to the main set spoilers. If you viewed the spoilers before, you might have to clear out your cache to see the updated text. If you wish to discuss any strategies or combos you believe will be successful from Miracle Crystal, feel free to post a thread in our Card Combos and Strategies forum. Also, congratulations to Bangiras, who won Nevada States with her Sceptile/Steelix/Mew ex deck!
---
EX Holon Phantoms Press-Release – Pokemon USA has issued a press release regarding the next American TCG set, EX Holon Phantoms:
Pokemon USA Inc., a worldwide leader in the trading card game industry, announced the latest Pokemon Trading Card Game expansion, EX Holon Phantoms, to be released on May 3rd. The expansion will boast more than 100 new cards, including additions to the Delta Species, new Pokemon-ex, and six basic Energy cards with a new holographic treatment.

The Pokemon TCG: EX Holon Phantoms will include more than 40 new Delta Species cards. These Pokemon were discovered in a region south of the city of Holon, where a mysterious lake is nestled in a deep forest. They possess a unique Dual Energy type, which introduces new levels of strategy into game play. The Pokemon TCG: EX Holon Phantoms expansion will be available in two 60-card theme decks, FireMist and FloodRush. A holographic parallel set will also be available. Theme decks and booster packs go on sale in stores on May 3rd, priced at $10.99 and $3.49, respectively. Each booster pack features nine randomly inserted Pokemon Trading Card Game cards. Theme decks include a metallic coin, an updated rulebook, card list, a one-player play mat, and damage counters.
Some interesting notes. Booster packs are now $3.49? Why? Are they using some sort of higher-quality paper or holo sheets now? Is it an error in the press release? You would think they would go down in price, since 11 card packs used to be $3.29 and now two cards less are even more than that. I know that the alternate holo in the pack costs more money as the e-cards did, but just how much more? The good thing about all of this – the return of holo energy (possibly those electrified Holon ones that were in Holon Phantom in Japan).
---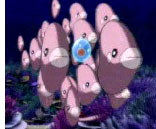 Pokemon Ranger and the Prince of the Sea: Manaphy – The trailer for Pokemon Ranger and the Prince of the Sea: Manaphy has been released on the Japanese Pokemon movie site. You can download the high-quality, 10 megabyte trailer by right-clicking this link and saving it to your computer. Once you download it, if you do not have a program to run it, try opening it in FireFox or Internet Explorer. Now some movie facts and speculation. The basic plot line for the movie is that a pirate is looking for a treasure (probably with his Perappu), and it just happens to be where Manaphy lives. What do Kyogre, Ash, and May have to do with the movie? Well, nothing specific on Kyogre has been revealed thus far or the main characters, but one can assume that Kyogre will be protecting Manaphy, May will be the Max of Jirachi, and Ash will be controlling/driving a submarine/boat. The bad guys of the movie will be the pirates, while the heroes will be the Pokemon Ranger and our usual main characters. Speaking of the Pokemon Ranger, how is he able to breathe underwater in both trailers that have been released for this movie? Is it possible that a Pokemon Ranger is able to take on the abilities of some Pokemon? When we first saw Pokemon Ranger in the original pilot trailer, he used his Ranger Stylus to temporarily control a Mantine, and then went underwater. He might just be able to hold his breathe for a long time and magically withstand the water pressure, or it could just be another cartoon breaking the law of physics thing, but one must wonder if Pokemon Rangers have any special abilities, especially after in the new trailer he appears to be deep underwater. Anyways, moving on, the moon appears to take a roll in the movie, although it is hard to tell if it even is a moon. If it is, maybe the moon is going to be threatened or blocked by something (maybe from trying to get the treasure?), causing tidal waves, and then Kyogre will have to save the day. Anyways, at this point, everything is just mere speculation. If you want to talk about this movie, you can discuss it in our Pokemon Ranger and the Prince of the Sea: Manaphy thread. I cannot wait for this movie, since it involves the ocean and two legendary water Pokemon! I could not ask for anything better in a Pokemon movie, being such the avid water Pokemon fan I am.
---
PokeBeach Strategists – The other day, I sent out an e-mail to every forum member by accident, when I meant to actually send it out to only a select few forum members who had signed up to be a PokeBeach Strategist. If you received the e-mail and did not sign up to be a strategist, simply ignore it. Anyways, if you are interested in being a PokeBeach Strategist, you can read up on what is expected of one and can sign-up to be one (this is the last time, I promise) in this forum thread.