Fake Blanks, Trozei, CA Registration
I hate Algebra II. Log and ln functions – when will we EVER use this stuff in real life? Raise your hand if you have ever used them in real life! I swear, the only time people will need to know 90% of the stuff in Algebra II will be if you become a high school Algebra II teacher or some rocket scientist, which is less than .000000000001% of the population. Gahhh!! *rips out hair*
---
Fake Card Blanks – Without the use of Algebra II, I have edited and added Delta Species Pokemon Blanks, Dual-Type Delta Species Pokemon Blanks, and Holon Pokemon Blanks to this site. Thanks go to Fangking, who created the original blanks! You can access the blanks in the future from the left menu under "Resource Center," along with regular EX series blanks.
---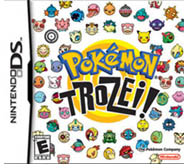 Pokemon Trozei Pre-Order – The official Pokemon Trozei website has now opened! The website includes downloads, tutorials, and explanations on Pokemon Trozei, a new puzzle game for the Nintendo DS. You can pre-order Pokemon Trozei from the Pokemon Center website, and if you do so before March 6th, which is when the game is officially released, you will receive a free Pokemon Trozei cinch sack and 10th Pokemon anniversary Pikachu plush! This looks like a fun game to play during Alegbra II.
---
Upcoming JAA Registrations – The qualifying online challenge test for the Journey Across America Gameboy tournaments at Los Angeles, San Francisco, and Portland (Oregon) will be opening on March 11th. If you want to participate in the Gameboy tournaments at those locations, you must take the online test starting March 11th and be one of the first 64 people out of your age group (12-, 13+) to pass the test. For more information, you can visit the Journey Across America website on Pokemon.com.
---
Oh, by the way, if I somehow turn up missing within the next few days, tell the authorities I think there is a ghost and/or alien in my room that somehow abducted me. The electric piano I have in my closet (a baby toy one) keeps making this weird sound, and it has done it several times already within the past hour. I took it out of the closet and smacked it with a plastic ruler, and it seemed to have stopped, but then it went back to making the noise. I put it on my bed and just stared at it once for about two minutes to see if anything would touch it, turned around for a split second, and it went on RIGHT WHEN I turned my head back to my laptop. I would take out the batteries, but I don't have a screwdriver in my room right now, and I am too afraid to go downstairs, especially after watching Unsolved Mysteries (about a guy possessed by demons who could control rain) and Porygon telling me about flying humanoid aliens in Mexico. *turns on all the lights in his room and gets his Algebra II book in hand to throw at the evil alien/ghost*