Great, called CompUSA today about my laptop, and they JUST sent it off. Guess this means I won't have it for a week or so. -_-
---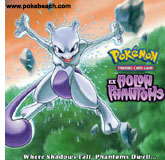 EX Holon Phantoms Goodness – Lots of EX Holon Phantoms news today! First off, we have yet another set description of the set, as seen below:
What mysteries await the bold trainer who ventures into the unknown lands beyond the labs of Holon? In EX Holon Phantoms, there's only one way to find out – step into the shadows! With more mysterious Pokemon Delta Species to discover, EX Holon Phantoms dares you to find what you've never seen before. You might think there's no such thing as phantoms… until you catch one!

* More than 40 of the amazingly popular Pokemon Delta Species!
* Find the mighty Pokemon-ex and legendary Pokemon!
* Over 100 new cards!
* Exciting holographic parallel set for players and collectors alike!
* Holographic box-topper card inserted in each booster display.
Secondly, we have some UltraPro binder images, themed after EX Holon Phantoms, that will be released around the world come June. You can choose from either a 14 page, 9-pocket page binder ($15.95) or a 14 page, 4-pocket page binder ($9.95). UltraPro will also be releasing a general Pokemon-themed binder ($14.95) that will have 14 pages with 9-pocket holders, coming out in June as well. Click the thumbnails below for larger images.
Finally, we have that Gyarados image of the set I was supposed to post the other day! I have not been able to get in contact with the person who sent it to me, but he/she said that the set would have "less than 117 cards." Hopefully we will have more exclusive information on the set soon.