Finals still are not over. On Thursday, the last day of the finals, there was a bomb scare at our school right smack in the middle of 5th period finals. So, we all had to evacuate. Of course, it was obvious that some poor kid somewhere did not want to take his 5th period finals, but the authorities still had to take their precautions. It was kind of fun sitting out on the grass in the back of the school for two hours in the warm sun as the helicopters were taping us on TV. The item in question was a gym bag that someone telephoned in saying had a bomb inside. It turned out to be a gym bag with socks! What a shocking end! Anyways, I have been studying for my 6th period finals (Espanol, gahh!!!), which was rescheduled for Monday, and have been getting organized in preparation for the 2nd semester. I had a lot of spare time, so I have made a couple of site updates.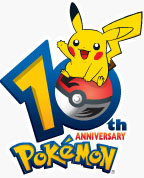 10th Anniversary for Pokemon, Mew and the Wave Guiding Hero Confirmed for US – [Pokemon.com] has created a new section to their site celebrating the 10th anniversary of Pokemon (10 years for Japan, that is). For the year 2006 section, it says "The latest Pokemon movie is on its way to the USA…," which basically confirms Mew and Lucario will be here soon. The 10th year anniversary mini-site contains trivia, facts, and images for each year Pokemon has officially been out. It might even help you on the TCG Quiz in the right menu. I'll see you all on the 20th anniversary in 10 years!
Site Updates – In my free time this weekend, I changed around a few things on the site. First off, I added two images above this story for EX Legend Maker and Holon Phantom. When you come to the site, you can click what you want immediately regarding the sets. For the spoilers of both sets, I also formatted the text for easier viewing. For the set information pages, they have been updated to include the most recent information. The right menu has also been updated with new, long overdo quizzes, "This Month's New Episodes," and "Upcoming Events & Dates." The Google Ad, which helps to pay for this site when you click it, has been moved on this page to the header so that everything does not look so cluttered. I also changed the header image to Pelliper and Pikachu. So yeah, those were the updates this weekend, along with some coding changes that I am too tired to explain since it is late.