Busy with school as usual. We had this hectic poetry packet on Robert Frost we had to do, and of course, everyone procrastinated with it because we already had a lot of assignments, and we were all up until like 3 in the morning on Friday finishing it.
Possible Holon Phantom News (unconfirmed)
The following information has not been confirmed and could be 100% false. It has little to back it up, so we can't exactly confirm its validity until the actual Holon Phantom set comes out. So, don't kill us if it turns out to be wrong. Apparently, the Holon Phantom will contain mainly old Pokemon, meaning Pokemon from the Red and Blue generation. This could mean the return of Alakazam (it BETTER mean the return of Alakazam). The days of EX sets are coming to a close, and this could be one of the last sets for it, so they will have to put the Alakazam line in at some point. If this information is true, what better place to put Alakazam in then a R/B set? Heh, we might even see a Water/Metal Blastoise soon, and other R/B Pokemon that have only been in EX sets once. When this information is confirmed or shot down, I'll post saying so.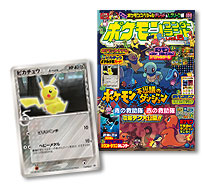 New Pikachu Promo
The next issue of Pokemon Wonderland will include a new Pikachu (Delta Species) promo. The magazine will be released on December 12th in Japan, so the only way to get the promo will be to import it, unless it is somehow released in an upcoming set or as a promo over here. The magazine and image of the card can be seen to the right.
The Polls in the Right Menu
From now on, anyone who posts what the answer is to a poll will be banned from submitting an answer, and if I am in a bad enough mood, banned from the site completely (as I have done with certain spammers). I shouldn't even have to be saying this. It's common sense that you should not be posting the answer to a question when people are still voting on it. If you miss this message and still post the answer, you will still be banned, no tolerance, period. I am tired of having to delete posts all the time with answers in them. To see a prime example of a person giving out the answer to the polls, just view last week's polls.