Holon Phantom, First Mew Music
REAL Holon Phantom News
Yesterday's info might not have been factual, but today's is! Thanks to Vincent for translating this exclusive info, we can now safely say that the Holon Phantom will have…
• A Water/Metal type Rayquaza (Delta Species)
• Several Deoxys (Delta Species) – Attack [Darkness], Defense [Metal], Speed [Lightning], and Normal [Colorless]
• The Unown, all Form-Changeable, although we are not certain yet whether they will be [Delta Species] Pokemon
• There will be some "popular trainer cards" reprinted in the set
All of the above information, plus older information, can be found on our [Holon Phantom] information page. Be sure to discuss this info in the commenting system and forums!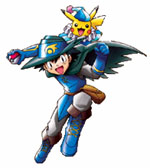 Mew and the Wave Guiding Hero – Lucario OST
In celebration of the upcoming release of the Mew movie on DVD in Japan, which will be on the 22nd, we will be offering a piece of background music, or OSTs, available for download every once in a while. Once a new piece of background music is put up, the old one will be deleted, so you will have to make sure you check back every once in a while to download some of the music! The one below is the opening theme to the movie, and you can save it by right clicking it and saving it by clicking "Save As" or "Save Target As" or whatever the heck your browser is calling it. I think we are all smart enough to know how to download links nowadays.
All files are in ZIP format, and require either Windows XP to open, or the Winzip program.
[Opening Title Theme 2005]
(1:31) – (3.4 MBs)
Of course, don't download the music if you do not wanting it sticking out like a sore thumb when you see the actual movie. When I buy CDs of OSTs of movies before I go to see them, the music ALWAYS sticks out to me, and I know exactly how it will sound. So, yeah. The next piece of music will be put up at a secret time, so keep checking back or you might miss it!
Card Scans and Watermarks
I will be changing watermarks on our current scans soon, because I feel they are ruining the card art that people want to use for avatars and the such. I wish I could totally remove them, but I simply can't, since people would steal them left and right and would claim them to be their own (**coughpojocough**). I was thinking of moving the watermark to the bottom left corner of the scan, where it only covers up that weird ID number thingy. However, I want your opinions on it, so if you would like to post your opinion, feel free to do so in the commenting system, or your opinion will not be heard!