Updating twice in one day. Please read the previous news story if you did not read it earlier. 2006 is almost here! Here in California, there are still five hours left. Will it rain on the Rose Parade this year for the first time? I'm not a weather forcaster, but it has been pouring here all day, and I am only twenty or so miles away from where the parade is held. Hopefully it will clear up by Monday and the record for no rain will not be broken.
EX Legend Maker Booster Box, Theme Deck Box, and Set Description
Yet again we have been sent early information on the next new set! This information confirms, if there was any doubt, that EX Legend Maker is the Japanese Eidolon Forest set! Below you can see the booster box and theme deck images, as well as the official set description.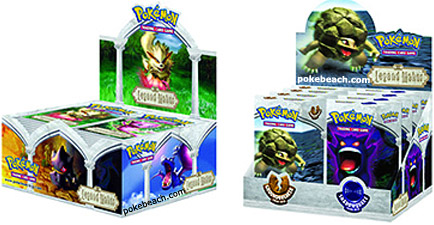 Set Description
What secrets does Mew hide that Pokemon Trainers have been waiting to learn? This is your chance to help players unravel the truth behind the most mysterious Pokemon of all. EX Legend Maker – it's the stuff legends are made of!

1. More powerful Pokemon-ex and legendary Pokemon to find and play.
2. A cool new collection of Stadium cards to expand game strategy.
3. Includes the new React Energy that affects each Pokemon differently!
4. Holographic box-topper card inserted in each booster display.
5. Exciting holographic parallel set for players and collectors alike!
6. Over 90 cards in all!
The two theme deck names are Groundbreaker and Shadowquake. EX Legend Maker is going to be a bit smaller than our usual sets. The original Eidolon Forest was 77 cards, plus 15 unique cards from the Banette theme deck (92 in total), so our set will probably be made only of the cards from the Japanese set, and possibly some other odds and ends. We will see the return of Rainbow Energy, improved fossil cards, and powerful EXs, such as Arcanine and Flygon. To see the spoilers of the Japanese set, simply click "Eidolon Forest" under "Japanese TCG Sets" in the left menu.