New Forums, binder, lati@s
EDIT: Added dub titles to the right menu for "This Month's New Episodes."
School starts tomorrow.
It's raining on my… I mean the Tournament of Rose's Parade. I originally thought that this would had been the first time it was going to rain on the parade, but apparently it did rain on it once 51 years ago. It's raining so hard that the channel airing the parade keep showing those weather warnings that say "SEVERE THUNDERSTORMS IN THE BLA, BLA, and BLA areas. TUNE IN TO CHANNEL BLA FOR MORE INFO" I better go hide under my bed.
New Forums
I have created new forums using myBB, a piece of forum software that is supposed to rival vBulletin. I have not changed the skin on it yet since I was up until 5:00 last night working on it, but I will get to it soon. If people sign up and post in it, it could be a successful forum, BUT the visitors are the ones who will be determining how successful it will be, so it is in your guys' hands. I will also be looking for moderators when the forum picks up in activity. In the meantime, you can join and post in the forums by [clicking here].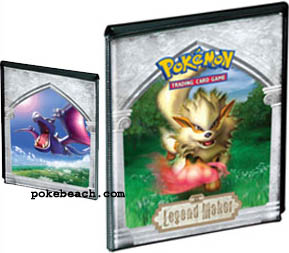 UltraPro EX Legend Maker Binder
UltraPro will be releasing EX Legend Maker themed binders in February in celebration of the set! Each binder will contain fourteen pages, each with nine card slots, and will be able to hold 126 Pokemon cards (252 if you put cards on the front and back of each page). The binders will feature Pokemon artwork from EX Legend Maker (Arcanine, Banette, Aerodactyl, and Mew) that will be both on the front and back covers of each binder. The retail price will be $15.95 per binder. You can see one of the binders, featuring Arcanine (front) and Aerodactyl (back), to the right.
Latios y Latias on Cartoon Network Tomorrow
Pokemon Heroes will be premiering on network television for the first time at 11 AM tomorrow on Cartoon Network. If you did not catch the movie on the big screen when it was out, or forgot to buy the DVD/VHS (bad you), then this is your chance to catch the movie! Pokemon Heroes is considered by many to be one of the best Pokemon movies (before Mew, people thought it was the best), and considering how "Pokemon Ranger and the Prince of the Sea" will be based off a location in the area of where this movie takes place, and how there is a cameo appearance of this movie at the end of the Mew movie, you don't want to miss it (although why that would make you watch the movie I do not know). Remember, 11 AM, Cartoon Network, tomorrow.