EX Delta Species Booster Box and New Info!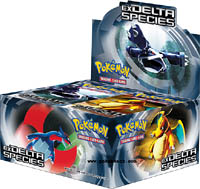 Quick and big update tonight! Thanks to one of our sources, who emailed us the following info, we now have the EX Delta Species booster box image! You can see the image to the right, obviously, which you can click for a larger image.
Also, our source has informed us that the Horon's Pokemon in this set, which have the owner in their names, can be used as both a regular Pokemon card AND as an energy card! Isn't this an interesting twist to the Pokemon TCG? Imagine the possibilities! The set will also have around 110 cards, which is pretty average for a Nintendo set (excluding EX UFO).
To see our pages on EX Delta Species and The Researching Tower of Horon, which have been updated with more new miscellaneous info, you can check under "TCG Sets" and "Japanese TCG Sets" in the left menu for all the info we know on both of the sets. We will continue to bring you the latest news on this set as it comes, so be sure to keep checking back here!
New Header!
I went to the beach today and had some fun with my camera in the late afternoon, as you can tell by the shiny ocean background. Blastoise and Squirtle were getting kind of old, so Swampert took their place. Hope you enjoy! The next new header will be put up around Halloween time.