Dialup is so slow. The pages take like 10x longer to load. Oh well, at least I can still get on the net. Anyways, EX Dragon scans will be up within the next few days, and I will finish up all of the EX sets by next week. Therefore, if you ever need any scans for any set in the Modified format, we will have them all for you. I will be working on older sets when I finish the EX sets, and will probably finish them up early during my school year. Other features on PokeBeach will be coming soon as well in terms of sets…
More EX UFO Spoilers
My sources have confirmed the following exclusive information. The pre-release stamped card for all EX Unseen Forces pre-releases will be Bayleef. The boxtopper for the set will be Rocket's Persian ex. And, and, and, the super-secret card in the set will be Celebi ex. You can see the Japanese cards of Celebi and Persian below. Also, to be more clear than in my last update about the set, the Unown will be the Matrix energy of this set. They will be in every pack at a ratio of 1:5, and will take the place of the alternate holo cards, as the Matrix energy did in Emerald. Late on Friday, we will have a complete set list up, and then on Saturday, we will have scans as well!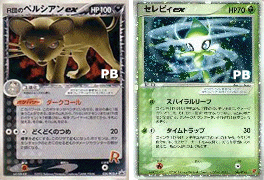 POP 2 Spoilers Finished
The POP 2 spoilers have been completed. To access them, you can [click here]. I'll get scans up soon.