Thursday – January 13th, 2005
Worlds 2005 Location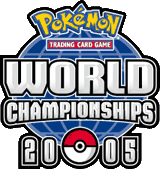 The location for the Pokemon TCG World Championships of 2005 has finally been revealed! It is now officially known that Worlds will take place in Southern California, but more specifically, San Diego! Worlds will be the ultimate battlefield for the best of the best from around the globe, who will all be competing for title of Pokemon TCG World Champion. Will you claim this title? [If you do, will you let me interview you afterwards? :D] Only the best will be able to make it to Worlds, so if you want to know how to get there along with other information concerning this huge event, you can visit the Worlds page on the official Pokemon TCG website by [clicking here].
Destiny Deoxys and Jirachi Wishmaker to Air on TV!
This month will be quite the treat for Pokemon Anime fans. Both Jirachi Wishmaker and Destiny Deoxys will be airing on both Cartoon Network and Kids' WB, and it will be the first time they have ever been shown on television. While Jirachi Wishmaker has already been released on DVD and VHS, Destiny Deoxys will not be released until two weeks after it airs on Kids' WB, which is kind of weird seeing as how they are airing the movie before it even hits stores. (you can see the DVD picture by [clicking here]) Anyways, I have already gotten the Japanese version of Destiny Deoxys, and I made some screenshots of the movie, which you can see under the "Next New Episode" section in the right menu. You can also see some Jirachi Wishmaker screenshots as well. Jirachi Wishmaker will be airing on Friday, January 21st, on Cartoon Network, and the next day on Saturday, the 22nd, Destiny Deoxys will premiere on Kids' WB for the very first time ever. Be sure to check your local TV Guide or to go to tvguide.com to see at what time they air in your area on those specific dates. Destiny Deoxys will definitely be a good Pokemon movie, and from watching it so far, I would rate it as the #2 best Pokemon movie so far (right behind Pokemon 2000 with Lugia), so you definitely do not want to miss it!
EX Deoxys Theme Deck Names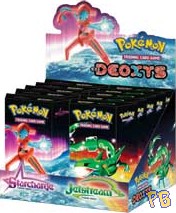 We now know for sure the name of the Destiny Deoxys theme decks we showed to you a while ago. The Deoxys theme deck will be named "Starcharge" and the Rayquaza theme deck will be named "Jetstream." You can see a picture of the theme deck box to the right, which clearly shows the names of the theme decks.
Pokemon Emerald and Dash Release Dates, Dash Boxart
Nintendo recently revealed the release dates to both Pokemon Emerald, the sequel to Pokemon Ruby and Sapphire, as well as Pokemon Dash, the first Pokemon racing game for the Nintendo DS. Pokemon Emerald will be released on April 15th, 2005, and Pokemon Dash will be released on March 14th, 2005, a date that was originally set for later in the year. Also, IGN released the American boxart of Pokemon Dash, which you can see by [clicking here]. I have updated the "Upcoming Events and Dates" section in the right menu with these new dates.
The Jukebox is Back!
I have added the Jukebox back to PokeBeach, since I have been getting some requests to have it back. However, there are a few catches to using it. First of all, if you are using Firefox, the Jukebox may not work for you at all. Secondly, when you go to another page on the site, the Jukebox will turn off, so you will have to go down and turn it on again. To go try out the Jukebox, scroll down the left menu and you will see it with Jigglypuff as its header.
Da Scans
The scans are back up and have been up for the past few days, even though I did not update the site saying so. I am still working on EX Ruby and Sapphire, and they should be up soon, so you can look forward to that.
Commenting System
The commenting system has now been updated so that people can have their own, personal accounts. In order to post comments, you have to register or you will not be able to do anything. To register, simply click "Register" under this news story, and input your username, password, and e-mail address. Then from now on, you will need to type in your information in order to post.