Friday – December 10th, 2004
.:: Friday – December 10th, 2004
SCHOOL!!! – Expect tons of scans to go up during Christmas (or Winter if you want to get all Public schooley) vacation when I finally get to sleep like a normal person and not have the burden of school for two weeks. :D

New Prof. Program Card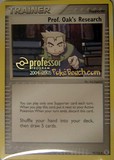 A friend of mine was able to get into his hands on a Prof. Oak's Research card with a professor stamp on it, which he recently received that is not available to anyone yet. Apparently, in the future the only way to receive the card is if you earn a certain amount of professor points, and of course if you are a Pokemon TCG professor. You can see a large scan of the card by clicking the thumbnail to the right. To visit his E-bay auction and to get the card before it becomes available to Pokemon TCG professors (which will be late 2005), you can [click here]. Don't miss your chance!
Pokemon 2005 Site Up
To everyone's surprise, no new Pokemon were shown on the Japanese Pokemon 2005 website, and not much new info was revealed on the movie, other than that Munchlax would be starring with Pikachu in the mini movie. The website did release the trailer that had been shown in Japan, which was translated in the previous update, and you can view that directly by [clicking here]. To go to the entrance page of the site, you can [click here]. If any more info pops up on the Mew movie or any new Pokemon, you can be sure you will find it here.
.:: By: [Water Pokémon Master]