Saturday – October 2nd, 2004
.:: Saturday – October 2nd, 2004
Very quick update tonight. I have my first Speech and Debate tournament of the year today (it's 1 in the morning and I need to wake up at 6), so I need to get some sleep.

More EX Team Rocket Returns Scans
The official Japanese Pokemon TCG website has put up new scans from EX Team Rocket Returns. You can see all of them below. I would had put them up yesterday, but I had an evil English project I had to work on all night, so I did not have the time. Also, I totally forgot about this, but I have had a few complete translations of some of the cards for over a week now and totally forgot to post them (even though I posted them on several forums). Since I am in a rush today, I will try to post them either tomorrow or the next time I can update. (Rocket's Mewtwo ex is awesome) Remember, PokeBeach is and will be your #1 source for everything EX Team Rocket Returns!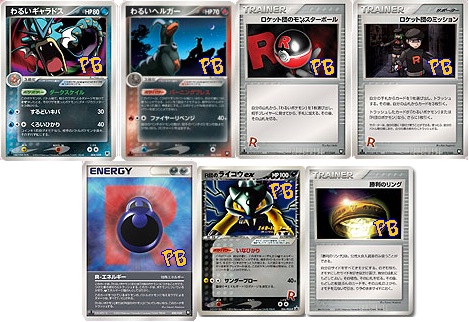 The New Modified Starts Today!
Don't forget, today Expedition, Aquapolis, and Skyridge get rotated out of the Modified format! From now on, Modified will consist of all sets released after EX Ruby and Sapphire. Start updating those decks if you already haven't!
[I seriously hope you have figured out by now that I was joking in that update a few weeks ago about Ruby/Sapphire and Sandstorm being rotated out. I have been getting some panicked people emailing me.] :)
.:: By: [Water Pokémon Master]