Thursday – September 30th, 2004
.:: Thursday – September 30th, 2004
Larger and New EX Team Rocket Returns Scans
Thanks to the Japanese website, [Watch-Impress], and Dro the PokeGym for bringing this to our attention, we now have much larger scans of the EX Team Rocket Returns cards we featured the other day, as well as a huge scan of the Japanese booster pack. We also have one new scan of Rocket's Mewtwo ex from [this] Japanese forum. First, let's start off with the Japanese booster pack, which now shows us who all the Pokemon on the packs are. If you scroll down to the news story with the Japanese booster pack, you can see that we did not know who two Pokemon are. As of now, we now know that the Pokemon on the left is Raticate, and the one on the right is still hard to tell, though it could be Kingler, since it has pincers. As for translations, we are currently working on more accurate ones of all the cards, as well as a whole new translation for the Mewtwo, so be sure to keep checking back here! The thumbnails of all the images are below, and you can click them for much larger pictures.







Catch Deoxys!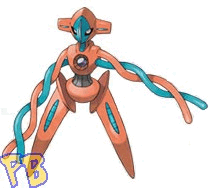 There is now a way to capture the space virus Pokemon, Deoxys! At all of the Pokemon Rocks America events, you will be able to download the Aurora Ticket to your Pokemon FireRed or LeafGreen games (not Ruby or Sapphire), and it will allow you to travel to one of the Sevii islands to confront it and then capture it (similar to the Eon Ticket with Latios and Latias, except there is no physical e-card). Apparently, Nintendo will be able to access your game via the wireless adapter through Mystery Event when you enter a certain area at Pokemon Rocks America, but this method has not been confirmed yet. Once the official Pokemon website releases more details, we will be sure to tell you about them! To read the article from Pokemon.com, you can [click here].
Kids' WB Create-a-Card-Contest Promo Booster Packs
An auction on E-Bay claims that [this] booster pack is from the Kids' WB Create-a-Card Contest. Incase you forgot, the contest Kids' WB ran a few months ago had people send in a drawn picture of Mudkip, Treeko, Torchic, Wurmple, and Pikachu that would be made into Pokemon TCG cards, and you could go to Target to get a form for the contest as well as a Mudkip, Treeko, Torchic, or Whismur promo card with the purchase of a medium drink from the Food Court. The booster pack seems to be real, but if we hear anything else on the contest and when you can get the promo card booster packs, we will be sure to tell you!
.:: By: [Water Pokémon Master]