New English and Japanese Promos, Other Stuff
New English and Japanese Promos, Other Stuff
By: [Water Pokémon Master] — Sunday – March 21st, 2004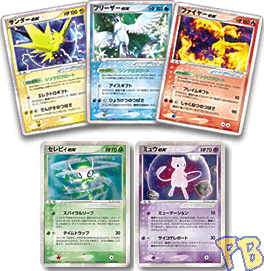 »New Japanese Promos: In Japan, five new ex-promos were recently released for people who are in Japan's Pokemon Players' Club, which is like our Pokemon League. As you can see to the right, the promos are Mew ex, Celebi ex, Articuno ex, Zapdos ex, and Moltres ex. No information has been released yet on to when these promos will be released in the United States.
»Brand Spankin' New English Promo: Nintendo has just released a brand new promo that is not another reprint from a set. What is the promo? Well, it is a water Pokemon, it is a Stage 2 card, and best of all, it is holographic! The card is Ludicolo, and is available at Target. When you go to Target, they usually have a TCG Center where there are various TCG booster packs and supplies. Simply locate the new three-booster pack package that has an EX R/S, EX Sandstorm, and EX Dragon booster pack in it, and inside will be the #20 Ludicolo card! The package runs for $9.99, and is available now. If I go to Target this week, I will try to pick up one so I can scan it for your viewing pleasure.
»Official Pokemon Websites Updated: The official Pokemon TCG and Pokemon Game sites have been updated. First off, the Pokemon TCG site has been re-done to match the themes of Team Aqua and Team Magma. To view the site, [click here]. Secondly, the Pokemon Games site has been totally remodeled for Pokemon Colosseum with a new layout and loads of Colosseum information. To view that site, [click here].
»Deck Fixes: We have only gotten in one deck fix since we opened up the Deck Fixing page. So, if you have a City Championship, State Championship deck, or any deck, send it in and we will fix it. To do that, click Submit a Deck under TCG Center in the left menu.