Deoxys Stuff, New Pokemon?, Worlds Info, Site Stuff
Deoxys Stuff, New Pokemon?, Worlds Info, Site Stuff
By: [Water Pokémon Master] — Thursday – March 18th, 2004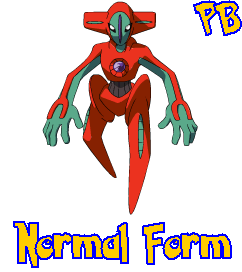 »Deoxys, Movie Info, A Brand New Pokemon?: The official artwork for Deoxys' three forms has just been released. As you can see, Deoxys can take on an attack and defensive form, as well as its regular form. More info has also been released on the movie. We now know that the movie will definitely involve Deoxys, Rayquaza, Plusle, Minun, and another Pokemon to which we do not know yet. On the Japanese site, it shows the last Pokemon as a question mark, so could it be a brand new Pokemon that are not part of the 386? Could it be one of the 386? Only time will tell, but this would be about the time that new Pokemon should be popping up.
»Worlds Info: The official Nintendo TCG Website recently released information on Worlds and the prizes you can win. Prizes people can win are scholarships, Pokemon games, and get this, one box of every Pokemon TCG set for a year! If that doesn't excite you, wait until you see what you can win in terms of scholarships. For information regarding Worlds, as well as the prizes, [click here]. What the prize page also confirmed was that Fire Red and Leaf Green are coming to the United States. On the page, it calls them Red and Green, so we may not get Blue unless the people running the site are not sure of what the official names will be yet or what versions of the game will be released since it is early. More info will be available here as it comes.
»EX Team Magma vs. Team Aqua Theme Decks: Thanks to PokeMasterFlabFace from the PokeGym, we now know what are in the Team M/A theme decks. In the theme decks will be a specially selected Holo card, a Pokemon coin, a Rulebook, Cardlist, damage counters, and for the first time, a half-size playmat! To view what will be in the theme decks, you can launch the theme deck browser by [clicking here].
»New Deck Fixer and Deck Fix: We have a new deck fixer as well as our first fixed deck! Everyone say hello to SuperWooper from the PokeGym. Him, along with SwampertEX, will be working together with fixing decks. As for our first deck fixed which was sent in by Lunatone_Solrock, you can view that by [clicking here]. All deck fixes in the future will go into the Deck Garage, which is located in the left menu. To send in your deck, click Submit a Deck in the left menu.