Team Rocket & Base Set Scans Added, 1st Card of the Week, The Forums, and News
Team Rocket & Base Set Scans Added, 1st Card of the Week, The Forums, and News
By: Water Pokémon Master — Monday – January 5th, 2004

»Wizards of the Coast Stores to be Closed: Unfortunately, Wizards of the Coast has decided to close all of their stores by March of this year, as well as their Gamekeeper stores. The reason for this is that they want to focus more on other things, and their stores have not been successful. So, if you have a league at one of the stores, you should look into relocating it incase your store manager is your league leader. Remember, this will apply to all Wizards of the Coast and Gamekeeper stores, so if you think yours will not close, you will be in for a surprise. To read more on the situation, [click here].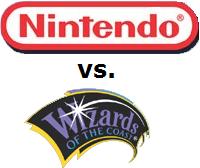 »Wizards Settles Lawsuit with Nintendo: Remember the lawsuit we reported to you earlier with Wizards of the Coast suing Nintendo after they had just taken control of the TCG? Well, that has now been settled. Both parties decided they did not want to continue with the lawsuit in court and dropped all charges. To read more on this, [click here] or [here].
»Fire Red and Leaf Green Release Date: As we have reported in the past, there were going to be remakes of Red and Green (Blue in America) for the Gameboy Advance that would be released in January this year.

These games would be called Fire Red and Leaf Green in Japan, and would feature the old 150 Pokémon as well as evolutions related to them (such as Steelix for Onix, Umbreon and Espeon for Eevee, Pichu for Pikachu, etc.). Now, the offical release date for Japan has been set for January 29th, 2004. It is unknown of when the game will be released this year in America, but there is no doubt it will be released sometime this year here in America. The game will also be compatible with Pokemon Colosseum for Gamecube as well as Ruby and Sapphire.
»The First Card of the Week: For now on each week, we will be having a card of the week. Each week, a certain amount of people will review a card and give their ratings on how good they think it is. This week, Maverick Hunter Zero, Misdreavus, and Swampert EX have sent in their reports. Want to know what the card is and what they thought? [Click here]. We also added a new section to the left menu where you can access every Card of the Week in the future.
»Team Rocket Scans Added and Base Set Page Fixed: I have added the Team Rocket set scans and have fixed the Base Set page. To view the scans, click either Team Rocket Set or Base Set under Card Scans in the left menu.
»Join the Forums: We have had only one new member join the forums since we re-opened. We need more members so if you have not become one, sign up by [clicking here]. Remember, there will be a surprise for everyone who joins the forums if 200 new members join by Sunday.
News/Event Reminders


»Check the Pokémon Release Dates in the Right Menu towards the bottom for updated release dates on Pokémon Heroes, Colosseum, and Fire Red and Leaf Green as well as other things
Interesting Pokémon Fact


»Did you know that the Japanese animators originally gave Lawrence III from Pokemon 2000 who was trying to capture the four Legendary Birds a flying airship that looked like a bird?
Interesting Fact


»Did you know that if you put a fly in a cold place they will go into hibernation? Try it for a good magic trick by putting it into your warm hands and then having it come back to life.