More Fire Red/Leaf Green News & Screenshots, Pokémon Heroes Info, Pokémon Box
More Fire Red/Leaf Green News & Screenshots, Pokémon Heroes Info, Pokémon Box
By: Water Pokémon Master — Tuesday – January 6th, 2004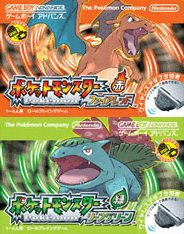 »Fire Red/Leaf Green Screenshots and Info: The official Pokemon Japanese website has opened up two brand new pages of screenshots from Fire Red and Leaf Green! (pictured on the right are the box art for the two games) To view the pages, [click here] and [here]. Some new information shown on the Japanese site is that the games will have a new help system for newbies. Also, every time you enter an area such as a forest, a picture of a forest will appear (as seen by the tree screenshot on the second page). Remember, these two games will be the first Gameboy games ever to feature the new wireless adapter which acts as a link cable, except you can go wireless. With the new wireless adapter, it will also be made possible to chat with people on your Gameboy or battle them in rooms called Union Rooms. Fire Red and Leaf Green will be released in Japan on the 29th of this month.
»Pokemon Heroes Website and Info: The official Pokemon Heroes site is now open! With the site's opening, we now have some new information.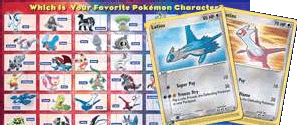 With the VHS/DVD release, it will come with a Latios and Latias Promo card as well as a Favorite Pokemon poster (pictured right). Other features will include the mini-movie Camp Pikachu, Location Scouting in Venice (I can't wait to see that), Animation Stages, the Characters of Pokemon Heroes, and the Pokemon Heroes Trivia game. The site also has a trailer for the movie, which is a little different from the original one. To open the site, [click here]. Remember, the release date for the movie on VHS/DVD is January 20th.

»Whatever Happened to Pokemon Box?: Many people have been wondering what happened to Pokemon Box since it was supposed to come out December 1st. Well, no new release date has been set and frankly, we know no new information on the situation. One possibility could be that Nintendo will release it around when Pokemon Colosseum is released so you have room for the Pokemon you catch in Colosseum. For those of you who don't know what Pokemon Box is, it is basically a Nintendo Gamecube game that allows you to save your Pokemon you catch in Ruby and Sapphire to it. In other words, it is a fancy PC Box like in the Gameboy games. I wonder if they will release it with Pokemon Colosseum. Have an opinion on Pokemon Box or any other Gamebube game? Post your opinions in the Forums by [clicking here]. If you have not yet registered, you can [click here].
News/Event Reminders


»Check the Pokémon Release Dates in the Right Menu towards the bottom for updated release dates on Pokémon Heroes, Colosseum, and Fire Red and Leaf Green as well as other things
Interesting Pokémon Fact


»Did you know that Jesse from Team Rocket's mom died in an avalanche while looking for the Legendary Pokemon Mew? There is a whole side story about this in the Japanese Radio Drama The Birth of Mewtwo.
Interesting Fact


»Did you know that it will take the new rover Spirit that has just landed on Mars twenty-four more days to set up itself and travel on Mars?