New E-Reader Site and St. Louis Pokémon Rocks America Event
New E-Reader Site and St. Louis Pokémon Rocks America Event
By: Water Pokémon Master — Thursday – October 23rd, 2003

»Official E-Reader Website: Nintendo has created a brand new e-reader website. On the site, you can view card checklists, read how the e-reader works, and download the e-reader commercial. In order to view it, you will need a flash plug-in since the whole site is based on it. To visit the site, [click here] and then click the pic.
»Pokemon Rocks America in St. Louis this Saturday: : The first Pokemon Rocks America event will be this Saturday from 10:00 AM to 4:00 PM at the St. Louis Union Station in the South Plaza and the Lake Stage. To read what Pokemon.com has to say about the event and what will go on, [click here]. Remember, there will still be two more of them in Houston, Texas and San Diego, California (I'll be there).
News/Event Reminders


»Halloween is eight days away! Be sure to bring along a Hoothoot or Noctowl when you go trick-or-treating incase you run into any Ghost Pokemon.

»Pokemon Advanced begins Saturday, November 1st.
Interesting Pokémon Fact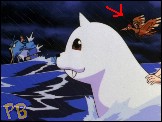 »Watch the scene from the first movie where the three trainers are heading off to New Island in the storm. In a 3 second scene, you will see another trainers on a Fearow. Guess he never made it to the island alive.
Interesting Non-Pokémon Fact


»Honey is the only food that doesn't spoil.