TCG / Gameboy / TV News and Site Updates
TCG / Gameboy / TV News and Site Updates
By: Water Pokémon Master — Friday – September 12th, 2003

»Well, there has been a HUGE boost in visitors lately. I think it has something to do with PA! showing my EX Sandstorm page on their site. People looking at that page probably found the link on the very bottom of the page that leads back here, and thus there have been many visitors lately.

Anyways, my laptop had to be sent in to Gateway on Monday after the screen was cracked by a flying ice cube, so I have been using my mom's computer for everything else until I got it back today. While it was being fixed, I couldn't login to Brinkster on her computer because her computer doesn't support some specification that you must have in order to view the HTML editor on Brinkster, so in other words, I couldn't update anything.

So for all of you newcomers here, I don't miss updates for a whole week, so keep that in mind because I usually add news every other day. (attempt at making you stay here)

On with the news!:

TCG NEWS:


»More Info on EX Dragon: As I reported earlier, the next EX set will be called EX Dragon, and the name has now been confirmed as the official name. Another thing we now know is that the set will be released sometime in December, so you can expect to have pre-release tournies sometime in November.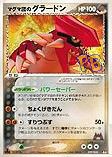 »EX 1 (ADV 4) Info: PA! has reported new information on the next ADV Set, EX 1. Here is what Nick15 has to say:
Surprizingly enough, Japan's Pokémon TCG website is updated before my sources did. Bleh! Anyways…. the site opened up some mysterious info on the new set, like how it's gonna look and all that…

First off though… link time.

This page here has a whole bunch of little things TPC decided to tease us with. I however, using my Duotronic Octogramic Neutronic Wave Translatitron device, will give you the run down of what's going on here…

• It's official, this set is called EX1. You can see it on the back design right below the ADV symbol.
• There seems to be only two deck packages, but it looks like there are two 30 card decks in each package (for a total of 4 mini decks)
• Looks like TPC is doing something new by doing dual-types. That Groudon is Darkness-Fighting. Super. You can be darn well sure that I certainly won't be blanking THAT. :)
• Two new Energies are added to the game; Magma Energy and Water Energy. I think they might provide either two Water/Fighting energy, two Darkness energy, or 1 Fighting/Water energy and 1 Darkness energy. Innnnnteresting.
• Also a new Technical Machine is listed; Magma Machine 01. Hmmm….

New cards seem to be:
• Magma's Groudon
• Magma's Aggron
• Aqua's Kyogre
• Aqua's Walrein
• Magma's Camerupt
• Aqua's Sharpedo
• Magma Energy
• Aqua Energy
• Magma Machine 01
»EX Sandstorm Tournaments this Weekend: The following are the locations for the EX Sandstorm tourneys this weekend:
Saturday, September 13th
Colorado Springs, CO
Orlando, FL
Cedar Grove, NJ
Federal Way, WA
Henderson, NV
Norcross, GA
St. Charles, MO
Chattanooga, TN
Plainfield, IN
Gresham, OR
Toronto, Canada
Sunday, September 14th
New York, NY
Columbus, OH
Plano, TX
St. Alberta, Alberta
For the EX Sandstorm Tournament locator, which has all the information on how to contact the people running the tournaments as well as the specific addresses, [click here].
»EX Sandstorm Pre-Release in San Diego Picture Gallery: I have finally uploaded the pictures to the EX Sandstorm tournament that took place last week in San Diego. To view the pictures, [click here.]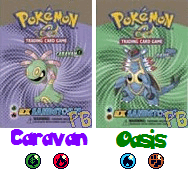 »EX Sandstorm Theme Decks: Thanks to mysterioustrainer from PokéGym, we now know what will be in the EX Sandstorm theme decks! To see what will be in them, [click here] for the Theme Deck Spoiler page, and then click EX Sandstorm.
»Future Organized Play Events: When mysterioustrainer got the EX Sandstorm theme decks, they came with a ruling booklet that included future Pokémon Organized Play Events. So, here's was the booklet said:
Pokemon-e Trading Card Game League
The Pokemon League is a fun participation based league that awards players with cool promo cards and prizes as they earn participation points. League formats are determined by league leaders and players so that everyone is playing their favorite Pokemon formats!

Prerelease Tournaments
A chance to see new cards weeks before they're released! Winners receive prerelease products too! Everyone gets a promo card just for playing!

Gym Ladder
Players compete to hold the top 'rung' on the ladder! Each sesson the best three players get cool prize cards and everyone gets a promo card just for playing! The top four players from each Gym represent their Gym as a team at the City Championships!

City Championships
Local area players compete for the title of City Champion! Gym ladder teams also compete to be crowned City Team Champions!

State Championships
Local players compete for the title of Pokemon-e TCG State Champion! Winners earn tropies and other cool prizes!

Gym Challenge
Players earn an invite to compete in the World Championships by winning a Gym Challenge! Earn ranking points and lots of other fantastic prizes!

Stadium Challenge
Mutliple players across the select regions can earn invites to compete in the World Championships! Lots of great prizes awarded as well as ranking points!

World Championships
The Final Test! An invite-only event where the best players in the world, in each of the three age brackets, compete for the ultimate title. Pokemon-e TCG World Champion!
»The Battle-e Cards are Coming: As everyone should know by know, battle e-cards are scanned through your e-reader to unlock things in your Ruby or Sapphire GBA games. We now know that the first set of Battle E cards will be in 3 sets, each having 18 cards in them. (16 trainers and 2 berries) The names of the sets are Freezing Ray, Hidden Ruins, and Iron Defense, and will be released on October 20th, as I have said before, for the price of $5.99. As soon as they come out, I will try to get the scans of the cards.
GAMEBOY AND TV NEWS: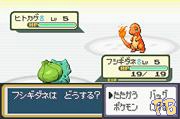 »Red and Blue Remakes for GBA: About a month ago, Nintendo made an announcement that they were going to release a new game for GBA, yet no one knew what the game would be, until now.
A Japanese magazine had news from a person who worked at Nintendo that the games would be a re-make of Red and Green, except with improved graphics and that you WILL be able to trade and battle with Ruby and Sapphire, as well as be able to use it with Colloseum. The games are also named Fire Red and Leaf Green, so if green is released as blue version again, it will probably be called Water Blue. So, this means that this will be how you will get all of the Pokémon in Ruby and Sapphire, though you may also be able to do it with Colosseum, as I have reported in the past.
So, we know no that Pokémon Red and Green are going to be re-made for GBA, but will we be able to trade our Blastoise that we love so much from our old Red Version to our new Red Version? Who knows, but when more information is released, PokeBeach will have the info, so remember to check back here. Oh yeah, both games are rumored to be released sometime in February next year, and when the next edition of the Japanese magazine is released on October 3rd, my b-day, we will know more on the game.
My Japanese sources sent me in a screenshot of the game, so you can view it at the right if you already haven't.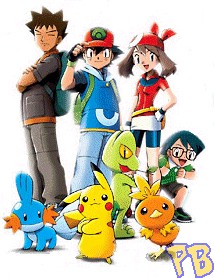 »NEW TV Episodes ALL Next Week on Kids' WB and Saturday Time Change: All of next week on Kids' WB, new episodes of Johto will be airing every day at the regular time of 4 PM! I was expecting this to happen due to that Hoenn episodes will be airing in two weeks, and we still have a handful of episodes to go through. So, Kids' WB is obviously trying to air them as fast as possible so that they can get the Hoenn episodes showing at the right time. And remember, the TV schedule has changed, so Pokemon will keep the same time on weekdays, but for Saturdays, the time will be changed from 9 AM to 10 PM (effective Sep. 15th).
»Site Updates: As I stated above, the theme deck page has been updated with the EX Sandstorm theme decks. Also, if you look at the bottom of this post, I have added an extra rectangle for an interesting fact. If you want to become smarter and know more about the big blue planet you live on, then read them, because they are little facts I hear every day from my teachers at High School. I also moved the News/Event Reminders to it's own rectangle.
News/Event Reminders


»EX Sandstorm Tournaments [click here for locator]
»EX Sandstorm will be released on September 15th, Monday.
Interesting Fact


»Did you know what the word NEWS comes from the first letters of North, East, West, and South?