EX Sandstorm Scans/Card List and the Name of the Next EX Set
EX Sandstorm Scans/Card List and the Name of the Next EX Set
By: Water Pokémon Master — Saturday – September 7th, 2003

»EX Sandstorm Scans: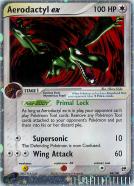 After leaving the EX Sandstorm tourny 8 hours ago (it's 4 o clock and I'm still awake scanning cards), I was able to get a card list of the set and obviously EX Sandstorm cards. So, before I give you the link to the scans, there are a few people to thank. Thanks to PT&E1 for lettting me have an extra blank card list. Thanks to Darkleaf Master and SD Pokémon's oldest son for letting me have some common and uncommon cards to scan. Thanks to Maverick Hunter Zero and Chrisbo's daughter for helping me to get the energy symbols on the list correct. So, thanks everyone and here is the link to the card scans, though it is not complete yet since I need thirty something more scans:
»The Next EX Set: While I was at the tournament in San Diego today, it was announced that the next set will be called EX Dragons. No further info was given besides that no further info is known.
I will have more stuff tomorrow, but right now I just want to go to bed.
»News Reminders
»EX Sandstorm Tournaments [click here for locator]