EX Sandstorm Tournaments and Card Scans
EX Sandstorm Tournaments and Card Scans
By: Water Pokémon Master — Thursday – August 21st, 2003
»EX Sandstorm Pre-Release Tournaments: As I have been saying for the past few weeks, there was going to be a pre-release EX Sandstorm tournament in San Diego. At the tournament, people would be receiving the EX Sandstorm cards a couple of weeks before the set would be released to make a deck out of. Though no official list has been released to where the tournaments are being held, people have already begun to sign up to hold the tournaments. Now, PokéGym has compiled a list of where the tournaments will be held and on what date, and I have obtained a copy for you to see where and when the tournaments are:
9/6- Garden City, MI
9/6- Sturgis, MI
9/6- San Diego, CA (I will be there)
9/6- Salt Lake City, UT
9/7- Butler, PA
9/7- Milford, MA
9/7- Niles, IL
9/13- Co Springs, CO
9/13- Las Vegas, NV
9/13- Orlando, FL
9/14- Columbus, OH
I have also got a list of the prizes that you can win. Note that the price to enter the tournament is $20.00 per person, instead of the usual $15.00, so you can't win anything or enter the tournament unless you pay:
1st Place
1 Box of Pokémon-e TCG: Ex Sandstorm Booster Packs
2nd Place
16 Pokémon-e TCG: Ex Sandstorm Booster Packs
3rd Place
8 Pokémon-e TCG: Ex Sandstorm Booster Packs
4th Place
8 Pokémon-e TCG: Ex Sandstorm Booster Packs
5-8th Place
4 Pokémon-e TCG: Ex Sandstorm Booster Packs
Everybody
Prerelease Card
Remember, you also get to buy six EX Sandstorm packs at the beginning of the tournament, so everyone should get something. Also, everyone who participates in the tournament will receive a pre-release card, as shown on the list above.
Site Updates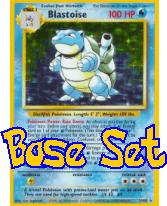 »Base Set Scans Progress: So far, I have scanned 50 of the 102 Base Set cards and will not upload them until I have completely finished with them and the card list before the end of this week. A weird thing I have noticed is that when you scan cards with the starry holo background (Base Set, Jungle, and Fossil), you can't really tell that the card is holo, like with the Blastoise on the right. I wonder why that is because the cards from Rocket and every set after that with the circles in the holo part of the card show up extremely well. How weird!
»Future EX Sandstorm Scans: I have now learned how to use presets in Photoshop, which does anything to an image that you specify by hitting one button, such as cropping, resizing, etc. So now, I have setup all of the specifications and now I can scan, edit, and save four cards per minute. Thus, when I get some of the EX Sandstorm cards from the tournament (or a whole box if I come in first again), I should have the scans up in no time at all. Also when I go to the tournament, I will be hauling my huge HP All-In-One printer into my car hooked up to a small generator that hooks up to the cigarette lighter. So, when I am on the way home from the tournament, I can scan them to my laptop and then upload them when I get home. If I do happen to get every single card in the set, though I doubt it, that will equal 108 cards, which means all of the scanning will take about a half-an hour, and from the tournament to home takes 2 hours, so I will be finished unless I get another headache on the way home. Of course, I will not have the complete card list unless they supply one, so it may take a while to get all of the cards organized. Everybody hope I win again because then there will be more scans!
»News/Event Reminders
»EX Sandstorm Pre-Release Tournaments Across the US (I will be at the one in San Diego)
»Ruby and Sapphire Challenge Series Tournaments Across the USA
»Eon Ticket Tours Across the US (I will be at the one in Riverside, CA)
»Pokémon Center Events
»EX Sandstorm
»Pokémon Pinball: Ruby and Sapphire