6th Pokémon Season and More Colosseum Screenshots
6th Pokémon Season and More Colosseum Screenshots
By: Water Pokémon Master — Wednesday – August 20th, 2003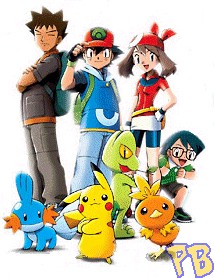 »Pokémon 6th Season is Coming: Kids WB has announced that starting September 13th, they will begin to air the new Hoenn Region episodes (Advanced Generation)! The following are the new times the shows will be airing:
Monday-Friday (Starting September 15th)
3:00 PM: Scooby-Doo
3:30 PM: Jackie Chan
4:00 PM: Pokémon (keeps the same time)
4:30 PM: Yu-Gi-Oh
Saturdays (Starting September 13th)
8:00 AM: What's New Scooby-Doo?
8:30 AM: Yu-Gi-Oh
9:00 AM: Jackie Chan
9:30 AM: Ozzy & Drix
10:00 AM: Pokémon: Advanced Generation (new time)
10:30 AM: Mucha Lucha
11:00 AM: Yu-Gi-Oh
11:30 AM: X-Men: Evolution
I wonder if Kids WB will be showing the first two episodes that they showed for the sneak preview or if they will show brand new episodes. Anyways, the time slot for Pokémon on Mondays-Fridays has not changed but, the time for Saturdays has changed from 9 AM to 10 AM, which means you can sleep in an extra hour!
»Brand New Pokémon Colosseum Screenshots: My friend, Jason, has just sent me an e-mail containing a link to a website that has new screenshots for Pokémon Colosseum! The website is in a different language so, I copied the pictures from the site and re-edited them a little to be a little easier to see. The pictures show Umbreon, Typhlosion, and what looks to be a Mightyena in the corner of the screenshot. As you can see, the graphics are way better and both the trainers and the Pokémon have shadows! The Pokémon also seem to be better rounded and better shaped. The second and third pictures are of your character (who is also the trainer in the first picture), a member of Team Snatch, which is who you are in the RPG mode that allows you to capture other trainers' unobtainable Pokémon and download them to your Ruby or Sapphire games. Click the thumbnails below for the blown up pictures. Remember, Pokémon Colloseum will be released on November 21st in Japan and on March 8th of 2004 for America.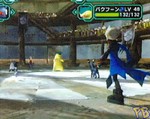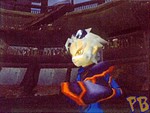 »Site Updates: I hope you guys like the new header! Since Kyogre is in 3-d, I changed the logo to 3-d as well. Enjoy!
»News/Event Reminders
»EX Sandstorm Pre-Release Tournament in San Diego (I will be there)
»Ruby and Sapphire Challenge Series Tournaments Across the USA
»Pokémon Center Events
»EON Ticket Tour (I will be at the one in Riverside, CA)
»Pokémon Pinball: Ruby and Sapphire