More Details on Upcoming Pokémon Center Events and Site Updates
More Details on Upcoming Pokémon Center Events and Site Updates
By: Water Pokémon Master — Tuesday – August 19th, 2003

»Back to School Promotion: As I reported before, the Pokémon Center in New York will be having a back to school promotion. Now, Pokemon.com has reported that the event will be going on from August 23rd to the 29th. Every day at the Center, ten people will receive a free kit that includes a fanny pack, a set of Pokémon Pencils, and six erasers featuring Mudkip, Treeko, and Torchic. Also at the Center, you can purchase backpacks, sidebags, and handbags featuring Kyogre and Groudon, as well as some back to school kits from the Pokémon Center in Tokyo. If you are interested in the bags, they are also available for purchase at PokemonCenter.com.

»Pokémon Pinball Ruby and Sapphire: A much cooler thing going on is that starting August 23rd, people will be able to purchase Pokémon Pinball Ruby and Sapphire two days before it is released! You can also pre-order it at PokemonCenter.com.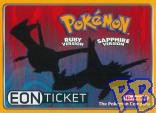 »Eon Ticket Giveaway: If you haven't gotten the Eon Ticket yet, (which would be pretty sad) now is your chance! During the back to school event, the Eon Ticket will be once again given away each day from 12 to 4. If you haven't gotten an Eon Ticket by now and don't live in NY, remember, the Eon Ticket Tour is still going on. To view the schedule, click here.
»Site Updates: I have deleted the Temporary News page because it is way too hard to update, especially when each news story has more than one thing it is talking about. So, every news story for each month will stay on this page until a new month comes. When a new month comes, the main page will be cleared and the postings will go to the now updates news archive. I have also added EX Sandstorm to the left menu but, nothing is there so don't get all panicky. I will get as many scans as possible uploaded after I go to the EX Sandstorm tournament, which is before the set is even released!
Sorry about not updating the TCG Quiz or the TV Schedule. I had uploaded the updated right menu Sunday night and I guess there was an error or something that caused the upload to fail. Anyways, the right menu has been updated with a new quiz and TV schedule so, vote away!
»News/Event Reminders
»EX Sandstorm Pre-Release Tournament in San Diego (I will be there)
»Ruby and Sapphire Challenge Series Tournaments Across the USA
»Pokémon Center Events
»EON Ticket Tour (I will be at the one in Riverside, CA)
»Pokémon Pinball: Ruby and Sapphire