Turning the Tide — Mastering Gardevoir ex in Paradox Rift
Hello everyone! I'm Natalie Millar, and it's a pleasure to make my debut on PokeBeach. I'm from Australia and have been playing Pokemon for the past 10 years. I've played at the World Championships 3 times, with an automatic Day 2 invite in 2022 and 2023.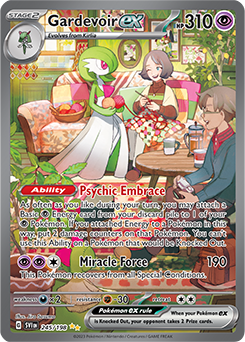 For my first article, I thought that I would talk for a bit about my favorite deck that seems well positioned in the upcoming format, Gardevoir ex. Gardevoir ex has been a top-tier pick ever since Tord Reklev took it to 2nd place at the European International Championships. That version of Gardevoir ex features four copies of Kirlia and uses Zacian V as its main attacker, along with 12 copies of Psychic Energy.
The biggest evolution that the Gardevoir ex deck has gone through was at the World Championships, again by Tord Reklev. This version played one copy of Kirlia with Mirage Step, two copies of Reversal Energy, and features Gardevoir as its main attacker. This version of Gardevoir ex often required the player to take very different lines than were used in the older version of Gardevoir ex, sometimes requiring you to intentionally fall behind a certain number of Prize cards to have access to Reversal Energy for the whole game. Reversal Energy was the biggest improvement that Gardevoir ex has ever had, as it counts for three Energy while attached to a Gardevoir CRE. You can also use Reversal Energy to attack with a Gardevoir CRE without needing to Psychic Embrace onto it, both letting you attack with an entire board full of single-prize Pokemon and put no damage on itself.
This line of play becomes even more important in the upcoming Standard format thanks to the introduction of Counter Catcher. Counter Catcher gives a huge boost to Gardevoir ex because it gives you easier access to your opponent's Benched Pokemon, something that Gardevoir ex decks tend to struggle with. Counter Catcher is only playable when you have more Prize cards than your opponent, increasing the importance of managing the Prize trade. Without further ado, let's get into my current decklist for Gardevoir ex:
---
This concludes the public portion of this article.
If you'd like to continue reading, consider purchasing a PokeBeach premium membership! If you're not completely satisfied with your membership, you can request a full refund within 30 days.
Each week we post high-quality content from some of the game's top players. Our article program isn't a corporate operation, advertising front, or for-profit business. We set our prices so that we can pay the game's top players to write the best content for our subscribers. Each article topic is carefully selected, goes through multiple drafts, and is touched up by our editors. We take great pride in our program!