Van Gogh Museum Cancels Pikachu Promo Distribution!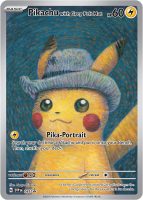 In an effort to deter scalpers, the Van Gogh Museum will no longer be offering the "Pikachu with Grey Felt Hat" promo to visitors.
The Van Gogh Museum and The Pokémon Company International take the safety and security of visitors and staff very seriously. Recently, a small group of individuals has created an undesirable situation that has led us to take the difficult decision to remove the Pikachu with Grey Felt Hat promo card from the museum. In this way, visitors will be able to experience this special collection of Pokémon paintings and the rest of the museum in a safe and enjoyable manner.
However, TPCi will make the promo available to participating retailers in the Netherlands early next year. In this way, fans in the Netherlands will still get a special opportunity to receive the promo.
TPCi previously announced the promo will be available at a future date to those who shop at the Pokemon Center in the United States, United Kingdom, and Canada.