TPCi Announces New Way to Get Pikachu Van Gogh Promo at the Pokemon Center!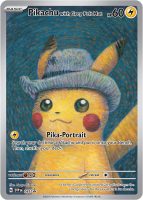 TPCi has responded to fan criticism of the Van Gogh promotion with real action!
The company has announced one copy of the "Pikachu with Grey Felt Hat promo card" will be given to customers who purchase at least $30 of qualifying Pokemon TCG products from the Pokemon Center website, while supplies last.
The promotion is promised at an unknown future date. Presumably this is because TPCi has to wait for a new batch of the card from their printing factories.
This updated promotion will be similar to past promo giveaways, except no code will be needed at checkout. This will make the promo card easily accessible to everyone. Assuming they print enough of the card, we should see prices plummet. Take that, scalpers!
Unfortunately TPCi previously announced they would not be making more of the Van Gogh merchandise. The only way to get some of it now is through the Van Gogh Museum or its webshop. All of it is currently out of stock, but the museum promises to get more in the coming months.
We will discuss all of this and the rest of the week's news in Friday's episode of the PokeBeach podcast. Stay tuned!