Pokemon Center Now Offering "Pikachu with Grey Felt Hat" Promo!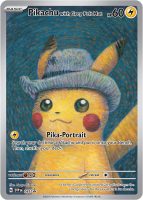 The Pokemon Center has officially activated their new promotion for the "Pikachu with Grey Felt Hat" promo card! (Though as of posting this article, their website is down.)
The promo is automatically added to carts when purchasing at least $30 of Pokemon TCG products. It is limited to one card per order. The promotion will end October 31st or while supplies last.
Unfortunately TPCi previously announced they would not be making more of the Van Gogh merchandise. The only way to get some of it now is through the Van Gogh Museum or its webshop. All of it is currently out of stock, but the museum promises to get more in the coming months.