Tera Mewtwo ex and Tera Skeledirge ex Decks Fully Revealed!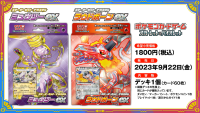 All of the cards from the "Starter Set Terastal Mewtwo ex" and "Starter Set Terastal Skeledirge ex" decks have now been revealed!
As we previously reported, the two decks will release alongside Raging Surf on September 22nd. They will retail for 1,800 yen each.
All new cards from these decks are listed below. Thanks goes to JustInBasil, Toine L., and Bangiras for the translations!
---
'Starter Set Terastal Mewtwo ex' Card Translations
Mewtwo ex – Lightning – HP230
Basic Pokemon

Tera: As long as this Pokemon is on your Bench, prevent all damage done to this Pokemon by attacks (both yours and your opponent's).

[P] Trans Charge: Attach up to 2 Basic Psychic Energy from your discard pile to your Pokémon in any way you like.

[P][P] Photon Kinesis: 10+ damage. This attack does 30 more damage for each [P] Energy attached to all of your Pokémon.

Pokemon ex rule: When your Pokemon ex is Knocked Out, your opponent takes 2 Prize cards.

Weakness: Fighting (x2)
Resistance: none
Retreat: 2

---

Exeggcute – Psychic – HP60
Basic Pokemon

[P] Hypnosis: Your opponent's Active Pokémon is now Asleep.

[P][C] Rolling Tackle: 30 damage.

Weakness: Darkness (x2)
Resistance: Fighting (-30)
Retreat: 2

---

Exeggutor – Psychic – HP130
Stage 1 – Evolves from Exeggcute

[P][C] Hypnoblast: 30 damage. Your opponent's Active Pokémon is now Asleep.

[P][P][C] Psychic Loop: 160 damage. Put 2 Energy attached to this Pokémon into your hand.

Weakness: Darkness (x2)
Resistance: Fighting (-30)
Retreat: 2

---

Natu – Psychic – HP50
Basic Pokemon

[P] Triple Jab: 10x damage. Flip 3 coins. This attack does 10 damage for each heads.

Weakness: Darkness (x2)
Resistance: Fighting (-30)
Retreat: 1

---

Xatu – Psychic – HP100
Stage 1 – Evolves from Natu

Ability: Akashic Sense
Once during your turn, you may attach a Basic Psychic Energy from your hand to 1 of your Benched Pokémon. If you do, draw 2 cards.

[P][C][C] Super Psy: 80 damage.

Weakness: Darkness (x2)
Resistance: Fighting (-30)
Retreat: 1

---

Deoxys – Psychic – HP120
Basic Pokemon

[P] Psypunch: 30 damage.

[P][P][P] Genome Spiral: 120 damage. Move all Energy attached to this Pokémon to your Benched Pokémon in any way you like.

Weakness: Darkness (x2)
Resistance: Fighting (-30)
Retreat: 1

---

Cottonee – Psychic – HP60
Basic Pokemon

[P] Fickle Attack: 30 damage. Flip a coin. If tails, this attack does nothing.

Weakness: Metal (x2)
Resistance: none
Retreat: 1

---

Whimsicott – Psychic – HP90
Stage 1 – Evolves from Cottonee

[P] Fairy Wind: 50 damage.

Weakness: Metal (x2)
Resistance: none
Retreat: 0

---

Dedenne – Psychic – HP70
Basic Pokemon

[P] Minor Errand-Running: Search your deck for up to 2 Basic Energy cards, reveal them, and put them into your hand. Then, shuffle your deck.

[P][C] Spin Turn: 50 damage. Switch this Pokémon with 1 of your Benched Pokémon.

Weakness: Metal (x2)
Resistance: none
Retreat: 1
---
'Starter Set Terastal Skeledirge ex' Card Translations
Magmar – Fire – HP80
Basic Pokemon

[R] Collect: Draw a card.

[R][C] Steady Firebreathing: 30 damage.

Weakness: Water (x2)
Resistance: none
Retreat: 2

---

Magmortar – Fire – HP140
Stage 1 – Evolves from Magmar

[R] Flare: 40 damage.

[R][R][C] Volcanic Heat: 170 damage. During your next turn, this Pokémon can't attack.

Weakness: Water (x2)
Resistance: none
Retreat: 3

---

Heat Rotom – Fire – HP90
Basic Pokemon

[R][R] Heat Tackle: 100 damage. This Pokémon does 40 damage to itself.

Weakness: Water (x2)
Resistance: none
Retreat: 1

---

Volcanion – Fire – HP130
Basic Pokemon

[R] Dual Turbo: 20 damage. Choose up to 2 of your Benched Pokémon, and attach 1 Basic Fire Energy from your discard pile to each of them.

[R][C][C][C] Heavy Impact: 120 damage.

Weakness: Water (x2)
Resistance: none
Retreat: 2

---

Fuecoco – Fire – HP80
Basic Pokemon

[R] Live Coal: 10 damage.

[R][R] Ram: 30 damage.

Weakness: Water (x2)
Resistance: none
Retreat: 2

---

Crocalor – Fire – HP100
Stage 1 – Evolves from Fuecoco

[R][R] Fireball Roll: 90 damage. Put an Energy attached to this Pokémon into your hand.

Weakness: Water (x2)
Resistance: none
Retreat: 3

---

Skeledirge ex – Metal – HP330
Stage 2 – Evolves from Crocalor

Tera: As long as this Pokemon is on your Bench, prevent all damage done to this Pokemon by attacks (both yours and your opponent's).

Ability: Explosive Song
Once during your turn, you may discard a [R] Energy card from your hand in order to use this Ability. During this turn, your Pokémon's attacks do 60 more damage to your opponent's Active Pokémon (before applying Weakness and Resistance).

[R][R] Raster Burn: 160 damage. This attack's damage isn't affected by any effects on your opponent's Active Pokémon.

Pokemon ex rule: When your Pokemon ex is Knocked Out, your opponent takes 2 Prize cards.

Weakness: Water (x2)
Resistance: none
Retreat: 2