2024 Pokemon TCG Illustration Contest Announced, More Countries Included!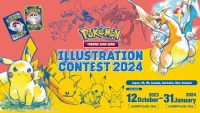 After skipping a year, the Pokemon TCG Illustration Contest has now returned!
This year the contest will be open to additional countries beyond Japan and the United States, including the U.K., Canada, Australia, and New Zealand. The last contest in 2022 was the first to include the United States.
The theme of this year's contest is to draw artwork capturing "Magical Pokemon Moments." This can encompass the Pokemon enjoying a moment in its day, or showing the Pokemon looking cool or dynamic.
One of the following Pokemon can be feature in each submission: Charizard, Pikachu, Eevee, Feraligatr, Flygon, Absol, Bidoof, Melmetal, Amped Form Toxtricity, or Koraidon.
For the first time ever, artists may choose to illustrate either a standard Pokemon card or a Pokemon ex card.
The prizes this year include:
One Grand Prize Winner: $5,000 cash prize
One Best Standard Card Illustration: $3,000 cash prize
One Best ex Card Illustration: $3,000 cash prize
Six First Place Runner Ups: $1,000 cash prize
15 Judge's Awards: $500 cash prize
One overall winner will be crowned. That is, one winning illustration will be turned into a real Pokemon card!
Entries will be taken from October 12th through January 31st. The final results will be announced in September 2024.
The full application and rules can be viewed here.
---
Under TPCi there have been only a handful of Illustrator Contests.
In 2004, Pokemon USA (now TPCi) held a contest in partnership with Kids' WB. Artists between five and fifteen submitted their art of Treecko, Torchic, Mudkip, Wurmple, and Pikachu. 50 promo booster packs were distributed to each of the five grand prize winners and one pack to 5,000 first prize winners.
2015's Pokemon Art Academy contest was held in North America, Japan, and Europe/Oceania. Each winner received 100 copies of a card featuring their illustration.
Japan has held around ten illustrator contests over the years.
2019 and 2020 saw the start of the current "Illustration Contest" series, with each contest crowning one winner:
2022's contest was the first to feature both Japan and the United States. Three winners were crowned, each getting a Pokemon card made. This was also the first time the winning promos were released in both Japanese and English. They were given out with purchases at Pokemon Centers in Japan and America.