"Scarlet & Violet" Booster Pack Configuration Finally Revealed: Major Exciting Changes!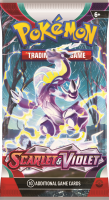 TPCi previously announced that due to global inflation, the price of Scarlet & Violet booster packs would be increasing from $3.99 to $4.49. However, each Scarlet & Violet booster pack would now feature "three guaranteed foil cards" to compensate.
We can now exclusively reveal each Scarlet & Violet booster pack will feature two reverse holo cards and one holo card.
The order and configuration of booster packs will also be changing; each pack will now be ordered with the rarest cards in the back. The order will be: 4x common cards, 3x uncommons, 2x reverse holos, and 1x holo. After this, you'll find 1x Basic Energy and 1x code card.
This new configuration means TPCi cut two common cards in favor of a second reverse holo and a guaranteed holo.
If you pull either an Illustration Rare or a Special Illustration Rare (both of which are Secret Rares), they will take the place of the second reverse holo slot. They will have single and double gold-colored stars, respectively, for their rarity symbols.
The rest of the Secret Rare cards can be pulled from the holo slot. The holo slot can either contain a Rare Holo, a Double Rare Holo (a regular Pokemon ex), an Ultra Rare Holo (a full art), or a Hyper Rare Holo (a gold card).
Rare Holos and Double Rare Holos will feature single and double black-colored stars, respectively, for their rarity symbols. Ultra Rare Holos will feature two white stars. Hyper Rares will use three gold stars.
From one pack you could theoretically pull 2x reverse holos and 1x Miraidon ex (either its Double Rare, Ultra Rare, or Hyper Rare Holo). In another pack, you could pull 1x reverse holo, 1x Miraidon ex (Special Illustrator Rare Holo), and 1x Skeleredge (Rare Holo). In most packs, you'll pull two reverse holos and one Rare Holo.
For fans, this new order increases the suspense as you reach the rarest cards at the end of your booster pack. For streamers, the updated card order will make it easier to show the rarest cards at the end of each pack opening. If you still choose to do the "pack trick," you'll only have to move the basic Energy to the front of the pack and discard the code card like usual. (Or you can just discard the last two cards of the pack without moving anything.)
TPCi previously announced the end of non-holo rares — all rares and higher will now be foil. This is why every booster pack is now guaranteed to come with one foil card, a first for a normal English set. Rainbow Rares are also gone, to the celebration of many fans.