"Mimikyu ex Box" Releasing with Greavard in March!
The Pokemon ex Box we posted about last week will feature Mimikyu ex! It'll be the same one from the "Starter Set ex" decks releasing in Japan, so presumably it'll be removed from our Scarlet & Violet set.
Mimikyu ex – Psychic – HP190
Basic Pokemon

[P] Void Return: 30 damage. You may switch this Pokemon with 1 of your Benched Pokemon.

[P][C][C] Energy Burst: 30x damage. This attack does 30 damage for each Energy attached to both Active Pokemon.

Pokemon ex rule: When your Pokemon ex is Knocked Out, your opponent takes 2 Prize cards.

Weakness: Metal (x2)
Resistance: none
Retreat: 1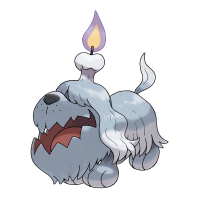 The box will also come with a holo promo card of Greavard, which hasn't been revealed in Japan yet.
In total the box will come with a Mimikyu ex promo card, a jumbo version of the same card, a holo promo card of Greavard, four booster packs, and a code card. This is the same configuration as recent V Boxes.
The Mimikyu ex Box will release on March 3rd for $19.99. Our first Scarlet & Violet set releases on March 31st, so this box won't include booster packs from the set.
Take an Underworld Stroll with Mimikyu ex & Greavard!

Mysterious powers and supernatural strategies swirl as the adorably spooky Mimikyu makes its debut as a Pokémon ex! Use Energy Burst to hit for huge damage, and then join the Ghost Dog Pokémon Greavard on an Underworld Stroll to mess with your opponent's hand. You'll find Mimikyu ex as a foil promo card in playable and oversize versions, along with a foil Greavard to add to your deck!