Exeggcute, Exeggutor from 'Incandescent Arcana'!
Exeggcute and Exeggutor were revealed from the Japanese set Incandescent Arcana, which releases in Japan on September 2nd. We should see most of the cards from this set become part of our Silver Tempestin November.
Exeggcute – Psychic – HP60
Basic Pokemon
[P][C] Psy Bolt: 20 damage. Flip a coin. If heads, your opponent's Active Pokemon is now Paralyzed.
Weakness: Darkness (x2)
Resistance: Fighting (-30)
Retreat: 1
---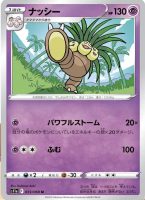 Exeggutor – Psychic – HP130
Stage 1 – Evolves from Exeggcute
[P] Powerful Storm: 20x damage. This attack does 20 damage times the amount of Energy attached to all of your Pokemon.
[P][C][C] Stampede: 100 damage.
Weakness: Darkness (x2)
Resistance: Fighting (-30)
Retreat: 2