'VMAX Climax' Pull Rates, New Reverse Holo Style, and God Packs Return!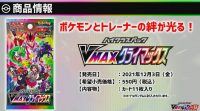 Japanese fans have started posting their booster box openings of VMAX Climax, revealing some stats about the pull rates!
Each booster box contains ten booster packs and retails for 5500 yen (about $49). It appears there's an average of three Character Rares per box, one Character Super Rare per box, and one full art Secret Rare per box. Here's an example of what YouTuber P4C pulled in one of his boxes:
So far we've seen a couple of fans pull the gold Ultra Rares. They're obviously not in every box, but also don't seem impossible to obtain.
Each 11-card booster pack come with the following cards, in this order:
1x Basic Energy (Mirror Holo)
3x Pokemon of "lower rarity" (there's no rarities for the regular cards in this set)
1x Supporter
1x Trainer (non-Supporter)
1x Special Energy or "rarer" non-holo Pokemon
2x Holo Pokemon
1x Pokemon V or VMAX
1x Reverse Holo
This set's reverse holos feature a new "brick" pattern.
Higher rarity cards are pulled from certain slots:
Character Rares are pulled from the reverse holo slot.
Character Super Rares are pulled from the Pokemon V/VMAX slot.
Full Art Secret Rares are pulled from the second holo Pokemon slot.
Morpeko V-UNION takes over the last "Pokemon of lower rarity" slot, the two holo Pokemon slots, and the Pokemon V/VMAX slot.
The Ultra Rare Gold Pokemon are pulled from the Pokemon V/VMAX slot.
God Packs have also returned. These are extremely rare booster packs that contain 10 secret rare cards.
For VMAX Climax, there are three different types of God Packs. One version comes with a random assortment of 10 Character Rares, another with 10 Character Super Rares, and another with 10 full art Secret Rares. To "surprise" you, each pack still has the Basic Energy on the top. You can see one example here.
For TAG All Stars, we estimated you could get one God Pack out of every 250 booster packs. We don't know the rate for VMAX Climax yet.
You can see all of the VMAX Climax Secret Rares here and the main set here.