Professor's Research, Barry from 'Start Deck 100'
A new print of Professor's Research features in Start Deck 100. The art features Professor Rowan from Pokemon Diamond and Pearl. This new print features the F regulation mark, which means the card's Standard legality will be reset upon its release.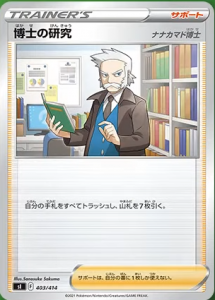 Barry was also revealed from the set. Like rival cards before it, it has the typical draw 3 effect.
Draw 3 cards.

You may play only 1 Supporter card during your turn.
A higher resolution version of Raikou was also revealed.
Raikou – Lightning – HP200
Basic Pokemon

Ability: Fleet-Footed
Once during your turn, if this Pokemon is in the Active Spot, you may draw a card.

[L][C] Lightning Rondo: 20+ damage. This attack does 20 more damage for each Benched Pokemon (both yours and your opponent's).

When your Pokemon V is Knocked Out, your opponent takes 2 Prize cards.

Weakness: Fighting (x2)
Resistance: none
Retreat: 1
Start Deck 100 releases December 17th in Japan.