Welder Decks — Magcargo-GX and Welder Toolbox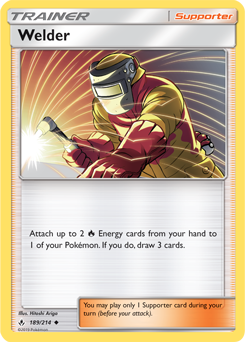 The Pokemon Trading Card Game is on hold — cancelled events have brought us to a hiatus from sanctioned play until at least mid-May. The Expanded format is another victim of the cancellations, it will not be used for another major event this season unless a change is instituted. Nonetheless, articles will continue as usual here on PokeBeach, covering the best decks or something new and ingenuitive. We have some great things in store!
Today I'm talking about Welder decks. You might have seen the wonky Magcargo-GX brew from the Oceania International Championships. Now that the list has been published, others have taken the deck into their own hands and played it at major events. Alessandro Cremascoli played it at the Malmö Regionals in Sweden a couple weeks ago and placed 25th. It's no Top 8 but a solid placement regardless. As the highest-placing list for Magcargo-GX and the most recent, his list ought to be examined first.
Welder Toolbox has been hanging around since Worlds and recently saw great success in the hands of Zach Lesage at the Oceania Internationals. His new and improved list for the archetype has swept the globe and many others have slightly tweaked it to their liking. Three players took it to great placements in Sweden (9th, 10th and 19th) and three others did likewise at the Puerto Rico Special Event (5th, 7th and 8th). The deck has cropped up at League Cups and I played it at one of my own a while back. It's something to have on your radar when preparing for local tournaments and a deck you should consider playing yourself.
Welder Toolbox Deck
This is Zach Lesage's exact 60 from the recent Internationals. These Welder Toolbox lists always look very simple; you need to jam-pack them with lots of Fire Energy to get things rolling. Fire Crystal has been experimented with in different ways throughout the season, but I believe forgoing it and doing a greater Fire Energy count is best. Playing Welder for two Fire Energy is how this deck wins and Fire Crystal helps get more Fire Energy to your hand. Here's a look at some things you might be wondering about:
Deck Explanation
---
This concludes the public portion of this article.
If you'd like to continue reading, consider purchasing a PokeBeach premium membership! If you're not completely satisfied with your membership, you can request a full refund within 30 days.
Each week we post high-quality content from some of the game's top players. Our article program isn't a corporate operation, advertising front, or for-profit business. We set our prices so that we can pay the game's top players to write the best content for our subscribers. Each article topic is carefully selected, goes through multiple drafts, and is touched up by our editors. We take great pride in our program!