Improving on Perfection — Building and Adapting Mewtwo & Mew-GX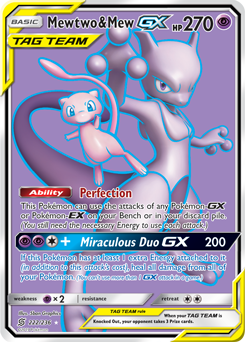 I've never won Worlds, or come particularly close to it. My Top 64 finish this year was my best result in eight appearances, so you can see why I consider this tournament to be my weak spot. I take comfort in the fact that Pooka himself, despite his amazing record at Nationals, never did well at Worlds either.
On August 18th, I experienced a fraction of the joy of winning Worlds when my friend and testing partner, Henry Brand, lifted the Pikachu trophy. Along with João Pedro Medeiros, Bert Wolters, and Henry himself—all top-ranked players from our respective regions—I was part of the group that built the Worlds-winning Mewtwo and Mew-GX list. We nicknamed it "Perfection", in part because of our main attacker's Ability, and an utter lack of anything resembling humility. The pride we had in our creation turned out to be well-founded. In addition to Henry's victory, Bert achieved a Top 16 finish at Worlds. I was the only one of the group to not play it (I stuck with Gardevoir and Sylveon-GX, which I wrote about recently), and I deeply regret it. I think that with Mewtwo and Mew-GX, I could have achieved, at least, the Top 32 finish that eludes me.
Caleb Gedemer wrote about this deck recently and I encourage you to read that article if you haven't done so already. However, because I was implicated in the deck's genesis I want to add my own contribution to the topic from a less neutral point of view. In this article, I'll explain the process in building a Worlds-winning deck, how the deck fares today as the metagame shifts and what we can expect of it with the addition of Hidden Fates in the format. Short version: Mewtwo and Mew-GX is one of my favourite decks in the format.
The Origin Story
---
This concludes the public portion of this article.
If you'd like to continue reading, consider purchasing a PokeBeach premium membership! If you're not completely satisfied with your membership, you can request a full refund within 30 days.
Each week we post high-quality content from some of the game's top players. Our article program isn't a corporate operation, advertising front, or for-profit business. We set our prices so that we can pay the game's top players to write the best content for our subscribers. Each article topic is carefully selected, goes through multiple drafts, and is touched up by our editors. We take great pride in our program!