It's PikaRom's World — EUIC Recap and ZoroGarb for Hartford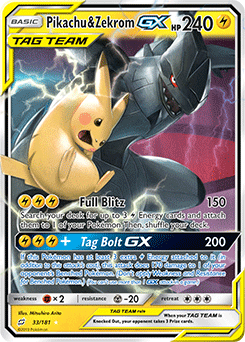 Hey everyone, time for another metagame breakdown hot off the results of the European International Championship. For this event, I played Pikachu and Zekrom-GX / Zapdos, a list built around Jirachi Stellar Wish to find the pieces necessary to complete a Tag Bolt GX with the added bonus and more. It ran smoothly, but I made a terrible mistake in my eighth match to lose a third game and fall out of Day 2 contention. On the bright side, the other five players that played the list made it through to Day 2, so our list wasn't without its share of success. Now for the results for Day 2:
Day 2 was dominated by Pikachu and Zekrom-GX and Zapdos decks. Many of the game's best players took one or the other deck to the event, so there's reason as to why. Additionally, both are seen as the best decks in the Standard format right now and have a chance to beat anything. Zapdos decks are usually slightly favored against Pikachu and Zekrom-GX so the relationship between the two decks themselves is rocky. This event's Top 8 summed this up with the exception of adding Zoroark-GX to the mix, as three of the ten Zoroark-GX decks in day two slipped into the cut. Fighting-type is good against Pikachu and Zekrom-GX, so the type advantage there helped and the Alolan Muk option helped tremendously against Zapdos decks.
Pikachu and Zekrom-GX / Zapdos
Pikachu and Zekrom-GX
Zoroark-GX / Lycanroc-GX
Zapdos / Ultra Beasts
Zoroark-GX / Lycanroc-GX
Zoroark-GX / Lucario-GX / Lycanroc-GX
Pikachu and Zekrom-GX
Pikachu and Zekrom-GX / Zapdos
Gustavo Wada won the event with the Pikachu and Zekrom-GX deck; he's been steadily improving since the deck was released with Team Up. There was nothing surprising in this event other than the emergence of a new control deck featuring Shedinja. That said, this format is going to be obsolete very soon with the release of Unbroken Bonds.
Expanded Connecticut Regionals
---
This concludes the public portion of this article.
If you'd like to continue reading, consider purchasing a PokeBeach premium membership! If you're not completely satisfied with your membership, you can request a full refund within 30 days.
Each week we post high-quality content from some of the game's top players. Our article program isn't a corporate operation, advertising front, or for-profit business. We set our prices so that we can pay the game's top players to write the best content for our subscribers. Each article topic is carefully selected, goes through multiple drafts, and is touched up by our editors. We take great pride in our program!