Magearna QR Download on December 5th!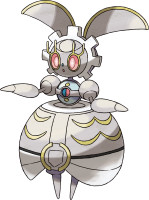 Pokemon.com has just announced that on December 5th they will be releasing a QR code to download Magearna to Pokemon Sun and Moon. Only players who have beat the game will be able to obtain Magearna.
The code will be available on December 5th because Magearna and Volcanion's movie will be debuting on Disney XD that day. Disney XD will be the new home of the Pokemon anime starting in 2017.