Worlds Restricted to Invitees and Family Only; Stream Schedule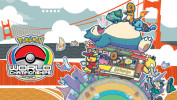 While this was announced to invited players a week ago, The Pokemon Company International has now announced to the public that Worlds will be restricted to invited players and their families. If you are not given a badge, you will not be able to enter the event area or the side event venue. However, a very limited number of guest badges will be given out on a first-come, first-serve basis.
It is unclear why TPCi would announce this restriction the week before Worlds after many players have already booked their hotel rooms, paid for their flights, and/or taken time off work. Especially when every Worlds has been open to the public. It is also the 20th anniversary of Pokemon, and many dedicated fans were going to Worlds for that reason alone, which TPCi should have anticipated. On the plus side, San Francisco has a lot to offer, so a trip to Worlds is definitely not a waste if you already made plans to go. You will meet Pokemon fans everywhere, including myself and the PokeBeach staff! :D
Should probably mention this as well: "Additionally, attendees should be advised that there will not be unique Pokémon GO events or special Pokémon GO spawnings at the venue hosting the 2016 Pokémon World Championships."
The Twitch stream schedule was also announced. The streams will be posted here when they start:
Twitch.tv/Pokemon – General Event Coverage

Friday: 9 a.m. – 10 p.m.
Saturday: 9 a.m. – 10 p.m.
Sunday: 9 a.m. – 6 p.m. (Finals Coverage for Pokémon TCG and Video Game)

Twitch.tv/PokemonVGC – Pokémon Video Game Championships

Friday: 9 a.m. – 10 p.m.
Saturday: 9 a.m. – 10 p.m.

Twitch.tv/PokemonTCG – Pokémon TCG Championships

Friday: 9 a.m. – 9 p.m.
Saturday: 9 a.m. – 9 p.m.

Twitch.tv/Pokkentournament – Pokkén Tournament Championships

Friday: 9 a.m.–5 p.m. (Last Chance Qualifiers coverage)
Saturday: 9 a.m.–5 p.m.