New Volcanion and Magearna "Collector Chest" This November!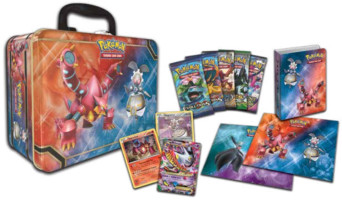 A new "Collector Chest" featuring Magearna and Volcanion will be released on November 2nd! It'll cost $29.99. It'll come with five booster packs, holo promos of Magearna, Volcanion, and shiny M Gengar-EX, a coin, two sticker sheets, a mini album, a notebook, pencils, and a PTCGO code card.
Shiny M Gengar-EX was originally released in September 2014, but its English release never surfaced — until now! Magearna and Volcanion both come from CP5.
This is the first time we're seeing Evolutions booster packs. The image above shows Mega Venusaur and Mega Charizard.
The first Sun and Moon set will be released in America this February and likely in Japan around December.