Flying Pikachu Promo in November's 'CoroCoro Aniki!'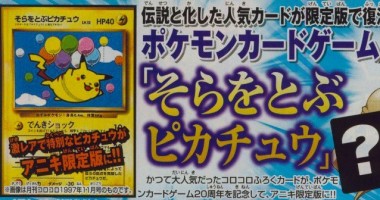 November 15th's issue of CoroCoro Aniki magazine will include a Flying Pikachu promo! Flying Pikachu was originally released in CoroCoro in November 1996, so they're re-releasing it exactly 20 years later. The card will likely be a modern reprint with new numbering as to not diminish the original's value. CoroCoro Aniki is a spin-off magazine of CoroCoro like CoroCoro Ichiban, but it's intended for older audiences.
As posted before, Japan is also getting Surfing Pikachu in a blister pack with Slowbro-EX, M Slowbro-EX, and Slowbro Spirit Link.
Both Pikachu will likely be included in Evolutions, our November set. Pika Pika!