'Zygarde Box' and 'Zygarde Collection' Product Images!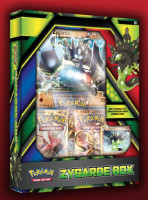 We now have an image of the European version of the Zygarde Box that releases on June 16th! As we previously reported, it will come with a reprint of Zygarde from Fates Collide as a holo, a jumbo version of Zygarde-EX, three booster packs, and a PTCGO code card. In the UK, it will retail for £12.99.
The American version of the box – named the "Zygarde Collection" – will replace the jumbo card with a Zygarde Complete figure. It will retail for $19.99. America always gets "Collections" with figures whereas in Europe, the same products are released as "Boxes" with jumbo cards.
Update: We now also have an image of the American "Zygarde Collection" box, as seen below! This image shows off the new artwork for the Zygarde promo card as well as the exclusive Zygarde Complete figure. Thanks to forum user StratusAsterion for bringing this to our attention!