New Pokken Tournament Fighter to be Revealed Next Week!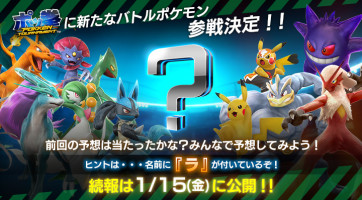 The official Pokken Tournament website and Twitter have revealed that a new playable fighter will be revealed next Friday, the 15th.
The only clue they gave is that the Pokemon would have "ラ" ("ra") in its name. So that would "narrow it down" to roughly Raticate, Raichu, Vileplume, Slowbro, Kingler, Marowak, Hitmonlee, Hitmonchan, Granbull, Heracross, Hitmontop, Raikou, Tyranitar, Swampert, Mightyena, Sableye, Aggron, Manectric, Flygon, Latios, Latias, Groudon, Luxray, Rampardos, Drapion, Heatran, Giratina, Darkrai, Stoutland, Zebstrika, Scolipede, Maractus, Carracosta, Cinccino, Reuniclus, Vanilluxe, Galvantula, Chandelure, Heatmor, Hydreigon, Terrakion, Reshiram, Landorus, Florges, Malamar, and Tyrantrum. Who do you think it'll be?
Pokken Tournament will be released in Japan on March 18th for Wii U.